Scoop.it Review: Research and Publish Best Content in 2023
Hey Guys, I warmly welcome you all to my new blog post. Today we are going to review Scoop.it tool. The content will include the following points such as, what is Scoop.it? what are the alternatives of scoop.it and how well is to spend money on it? So I would request you please stay tuned till the end of this post.
What is Scoop.it?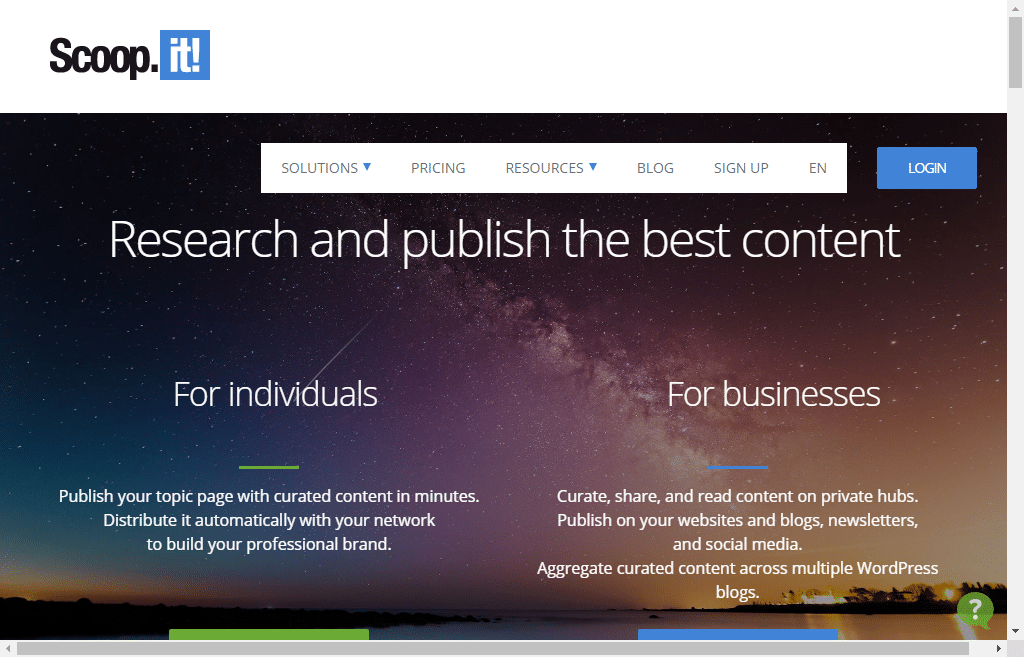 Scoop.it is a content curation tool that helps in content creation by LINKFLUENCE COMPANY. If you are a content developer, blogger, or owner of small enterprises then you know how painful is to produce content. you know it takes a lot of effort to collect so much information such as keyword research, a topic and many more, after spending too much time on research, at last, you are able to write your content. That's when scoop.it steps in when it comes to making good content.
Sccopt.it is a pretty good tool so far. It helps many people as of now irrespective of any business or service provider. If you have a business and want to promote your business online so it would be a good option for you for your research and market strategies as per your working requirement same for blogger or content marketer Sccop.it is also a good option for you. You should give it a try and enjoy its benefits.
How to create an account or sign up?
It is pretty easy to create an account over Scoop.it. I will help you to create an account on scoop.it just follows the below steps.
Go to the https://www.scoop.it/ and you will see on the first page on a website that there's an option for "sign up for free" just click on that.
After that, a small screen popped up which gives you three options either signup with Facebook or Twitter or if you don't have any of these social media accounts then you can choose the third option that you don't have a Facebook or Twitter account. I believe everyone has at least one of the above accounts so I would suggest sign up with either Facebook or Twitter.
Next, Once you choose one of the above options. then you'll be able to login into their website.
Price
Well, there are almost three plans but one is an exception which I tell you in a bit. The two plans that are mentioned on Scoop.it website's first one is Pro and the other one is Plus, both plans have somewhat same features just small differences are there.
The starting package of the Pro plan is $14.99 per month with the condition if you take one year plan otherwise it is $17.99 per month. for Plus, Scoop.it is providing a starting package of $67 per month same conditions apply if you take a whole year plan otherwise it is $79 per month.
So as I mention there is no major difference in the features. Please have a look below. Under Plus Plan you're gonna get some additional features than Pro one. Scoop.it providing the third plan as well but prices are not disclosed on the website for this one you need to contact them and I'm assuming that it is negotiable for prices.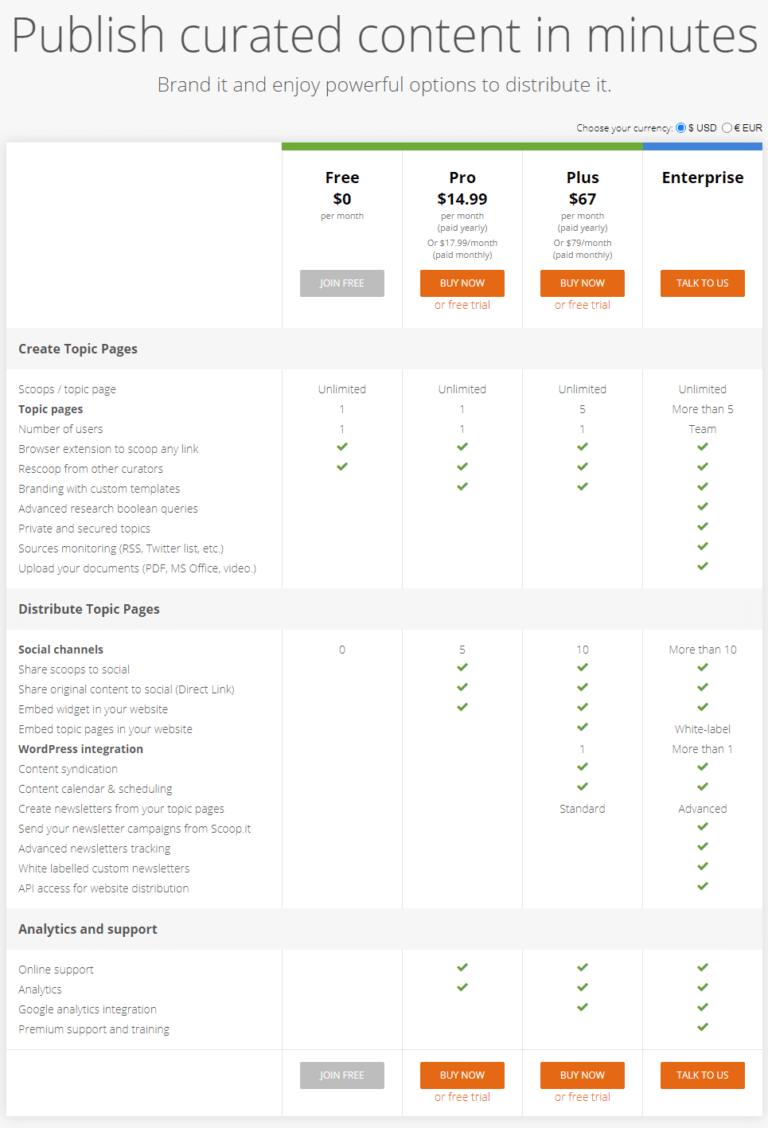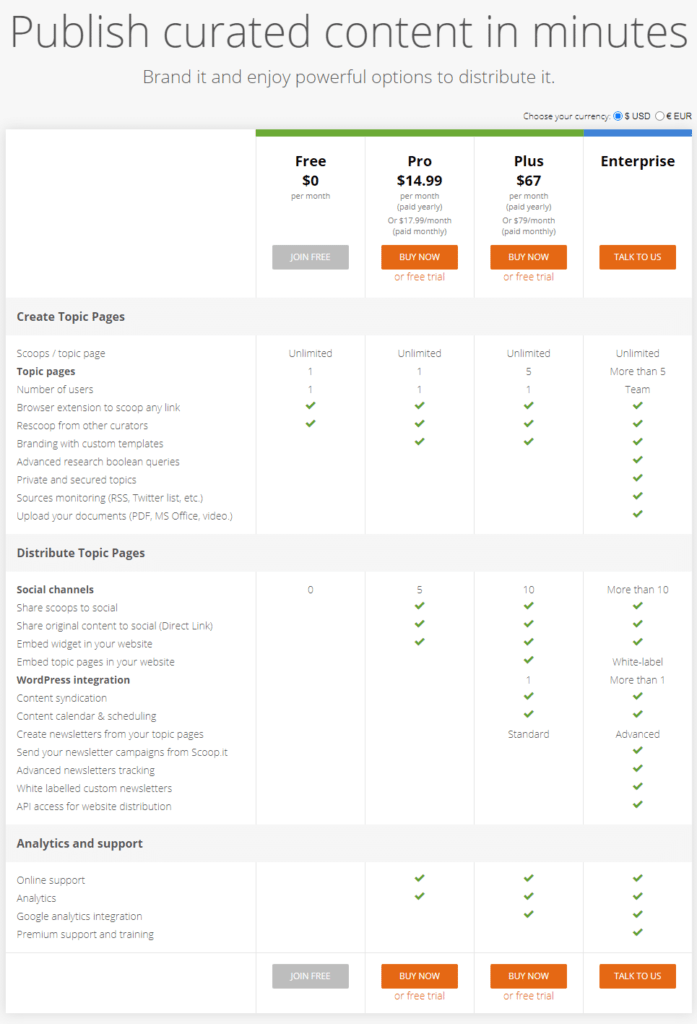 Scoop.it Alternatives
Let's talk about Scoop.it alternatives. It is always better to check other options as well before spending your money. So we would definitely be going to make your job easy and help you to get the right thing.
Ninjaoutreach:
Ninjaoutreach is a very useful tool for content marketing. This tool does multitasking job. Its specialization in outreach to your customers on social media but it is also useful in content curation as well. Hence, we can say it is a very good alternative for Scoop.it.
Social Animal:
The social animal is one of the good alternatives of Scoop.it. As it sounds like social which somewhat indicates that it would be helpful in terms of networking. Social animal technically helps you to grow your social network for marketing purpose. If both tools come together then I could say it's a deadly combination.
Sproutsocial:
Sproutsocial is also useful for social engagement. It is also a good alternative for Scoop.it. But let me tell you it is a bit expensive than Scoop.it. the starting page is $99. If you wanna go to the cheap one then I think Scoop.it is fine.
Buzzsumo: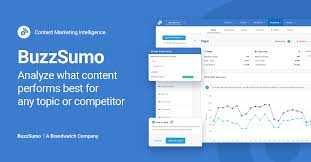 Buzzsumo is a highly efficient tool. It is the best choice for bloggers or influencers as well as the B2B for digital marketing. Buzzsumo gets a lot of attention and appreciation for its efficiency. It beats scoop.it because it highly advances tools with multi-tasking jobs.
Semrush: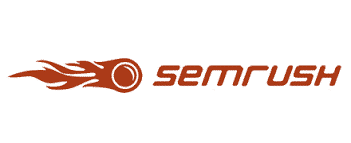 Semrush is one of the best alternatives for Scoop.it. both are having almost the same features on the other hand Semrush is a little bit advanced tool than Scoop.it. The reason I'm saying it because Semrush not only providing you content marketing features in fact it is providing SEO tools as well.
Oktapost:
In my opinion, Oktapost is a great tool. It helps in market research in order to grow your niche. Scoop.it and Oktapost both tools are good in market research. So we can say that yes Oktapost is also an alternative fair enough.
Contentstudio:
Contentstudio is also using for content research and helpful in gathering relevant information for your niche or business just like Scoop.it. If you are a blogger or Influencer then you know how much effort needed in terms of keyword research and then gather relevant knowledge then you can make your post. So Contentstudio is also a pretty amazing tool and the right alternative for Scoop.it
Scoop.it Review: Pros and Cons
Pros
Scoop.it is a content curation tool. it is best to produce fresh content, making strategies, and engage your targeted audience. Scoop.it is not just limited to content curation feature it has the ability to do so much from it. it can be used in content promotion, market research, and many more.Scoop.it is a pretty decent tool for you whether you're an author, businessman, or content developer and the best part is it is quite cheap anyone can afford this. Moreover, it is giving you 30 days free trial which is awesome if you have any doubts about it just use it first for 30 days free, and later when you find it useful then go for the paid version.
Cons:
Honestly, I don't think it has any big issue. I mean it is very cheap and giving you much than the prices. Spending the money and effort is genuinely worth it. Apart from it, I've got to know my research that Scoop.it is a little bit challenging to use but I don't think that's an issue because when you try something new it takes a bit of time to be handy. So according to me, that should not be a problem.
Conclusion:
At last, I would just like to summarize my words that Scoop.it is actually a very useful tool for bloggers and small enterprises in order to expand their business and network at the digital platforms. it is good at making quality content and helps you to outreach your organic audience. I hope this Scoop.it reviews help you to make the right choice.
That's all for now if you have any question or queries please write down below at comment section we will try to answer your questions.
A Guy Helping others to buy perfect product