Buzzsumo Review (Alternative): The Best Way to Create Content
Hey Guys, today, we are going to review BUZZSUMO which is a Content Marketing Tool.
In this Buzzsumo review, We try to explore each and every aspect of this content marketing tool like Trending Topics, Keywords, Questions, Content analysis (Web, Youtube, Backlinks), Finding the best influencer (Web, Youtube, Backlinks) for your Brand and create alerts on topics a publisher wants.
What is Buzzsumo?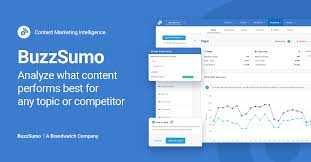 Buzzsumo is a powerful content marketing tool that has been made especially for content marketers to Get a closer insight into the competitor's website or any Topic that has proven historical data. This powerful content marketing tool can help us to get great content ideas for their upcoming post. Nowadays, Buzzsumo offers a beta tool for keywords to new signups.
Things to Read:
How to Create an account of Buzzsumo?
For creating an account in the buzzsumo. Users must have to follow the following steps. These simple steps are listed below:
Go to buzzsumo.com
Click on Start Free Trial or Signup Button
Content Marketer may get 7 days or 30 days of the free trial.
Fill the form as asked (Your Name, Email Address, and password)
Thus, your account is open. Now, you can enjoy the free trial of the Buzzsumo Marketing tool.
Buzzsumo: Pricing
Currently, it offers 4 plans, these plans are Pro, Plus, Large and Enterprise Plans. Let's discuss all these plans in detail one by one.
Free Plan: Plan To Take Trial
The free plan is nothing but the 30-day trial offered by Buzzsumo. In this trial plan, the webmaster can use Buzzsumo for 30 days free of cost with access to all tools.
Pro Plan: Plan for Beginners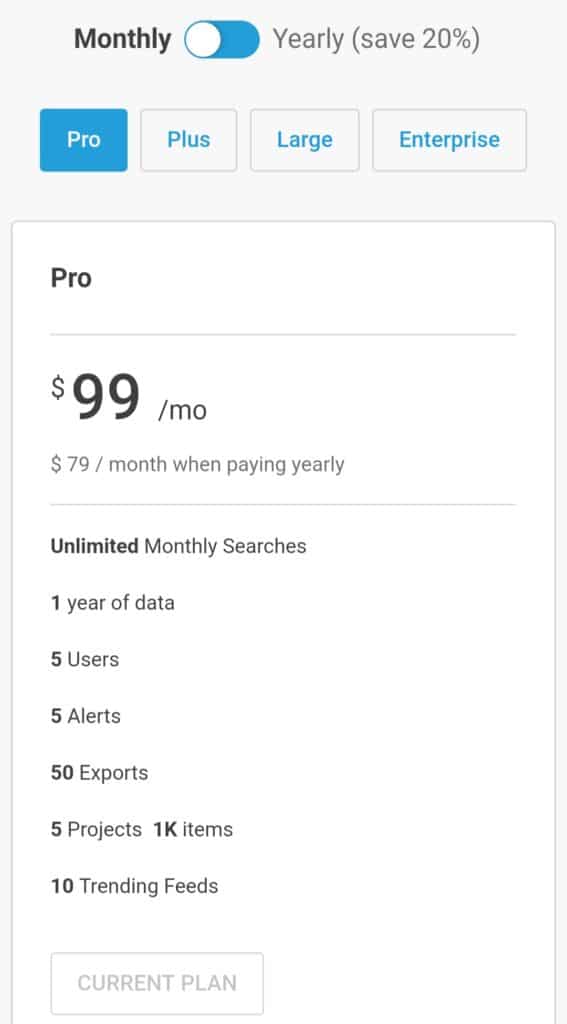 All users under the Pro plan have to pay 99$ per month or 948$ per year to get benefits of Unlimited monthly search, 1 Year of Data, 5 Users, 5 alerts on a specific topic, 50 Export, 5 project, and 1k items with 10 trending feeds. This plan is especially for new customers or customers that need very low data or content ideas.
Plus Plan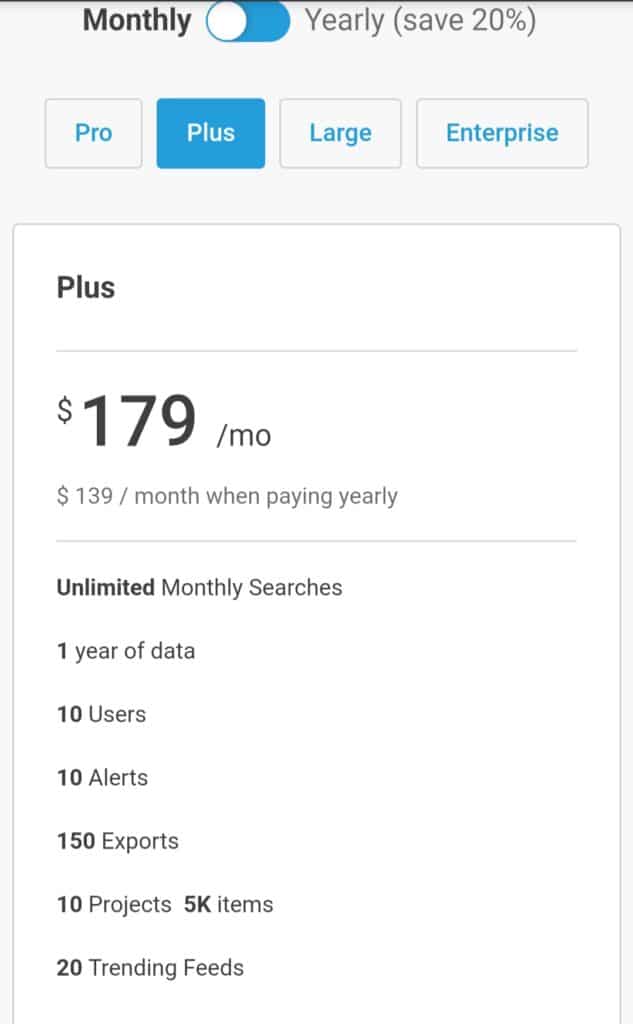 All users under the plus plan have to pay 179$ per month or 1668$ per year to get benefits of Unlimited monthly search, 1 Year of Data, 10 Users, 10 alerts on a specific topic, 150 Export, 10 project, and 5k items with 20 trending feeds. This plan is especially for customers that need very data or content ideas.
Large Plan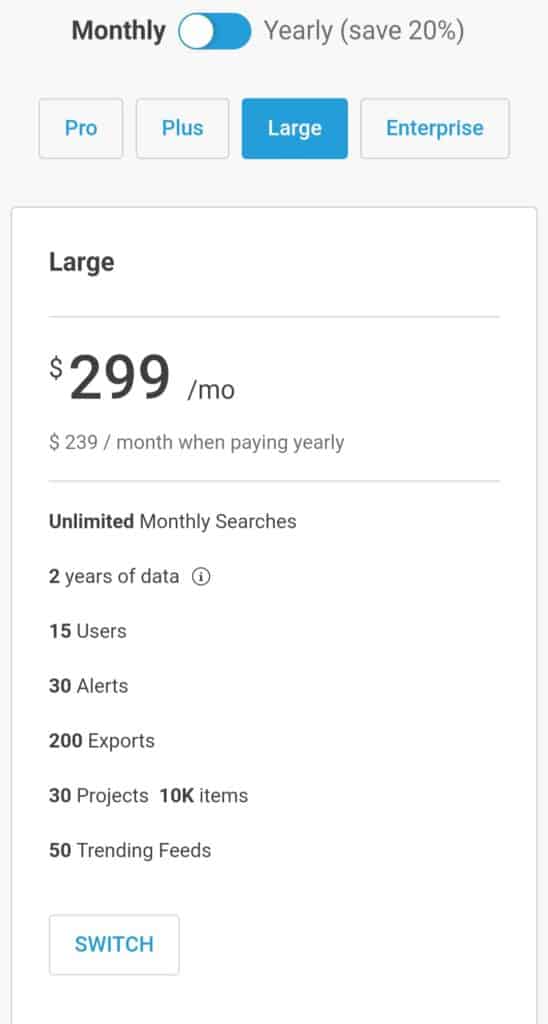 All users under the Large plan have to pay 299$ per month or 2868$ per year to get benefits of Unlimited monthly search, 2 Year of Data, 15 Users, 30 alerts on specific topics, 200 Export, 50 project, and 10k items with 10 trending feeds. This plan is especially for customers that need very large data or content idea.
Features of Buzzsumo:
There are lots of possibilities you can do through Buzzsumo. So, We have listed some features out of too many great features of Buzzsumo. These great features are broadly divided into almost two parts. These two parts are listed below:
Content Insight: Create great content with Buzzsumo
Buzzsumo helps you make a strategy on a niche or topic you are working on. It also helps you to find what and most perfect content marketing strategy which is proven in your niche from looking into your competitor's website.
Through these content ideas, you can create highly engaging content. These content ideas also help you to improve your SEOs and rank higher in the SERPs. The engaging content contains a great "Headline, photo and many other".
Influencer: Find the perfect strategy for your website
Buzzsumo also helps in finding the best influencers for content(Niche) available on your website on each and every social platform. Finding the perfect Influencer is an excellent idea as it can help you to increase your brand awareness and profits.
Things content creator can do in Buzzsumo:-
There are lots of possibilities a webmaster can do through buzzsumo like SEO for Blog, SEO for VIDEO, finding a perfect influencer for your business and many more. So, to ease your problem, we have listed down the important possibilities or things you can do with the help of Buzzsumo we find during the detailed review:
Trending: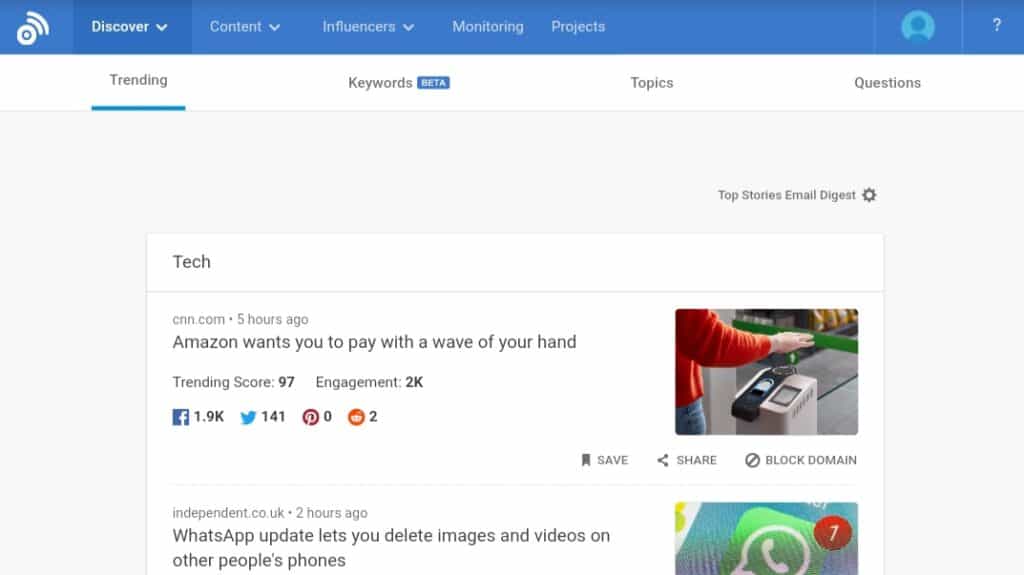 A content creator who uses BUZZSUMO can use this tool to explore what's trending around the world. Under trending features, you will get much more features in comparison to Google Trending.
As we all know Google Trending only offer "what is trending at Google?" but at buzzsumo "You will get much more features like what is trending at Google, Facebook, Twitter, and many more social media platform?"
Keywords: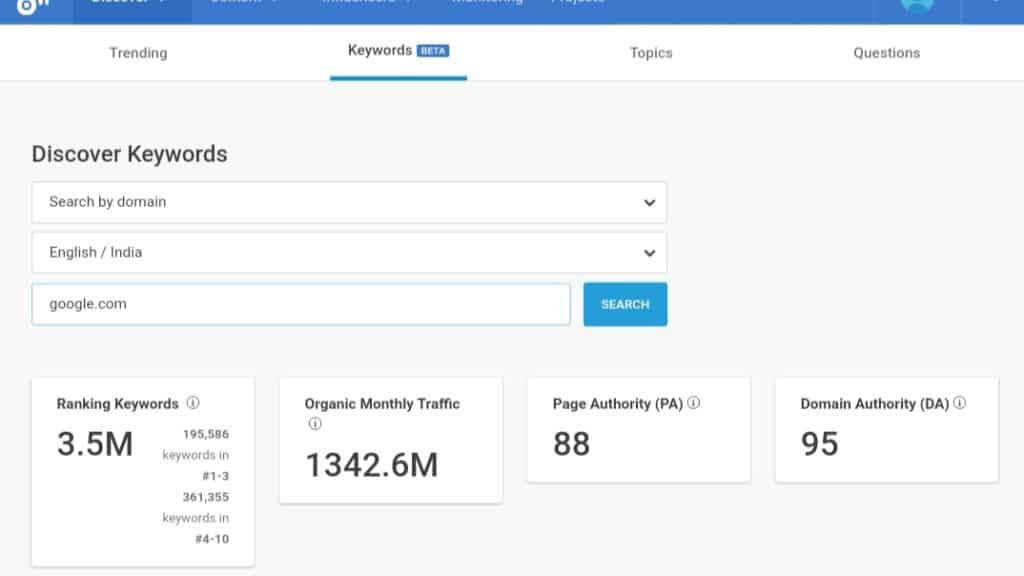 Buzzsumo offers Content creators to explore the competitor's Keywords or their own Keywords on the basis of Domain or Keywords. This can help you to generate the perfect backlink for your website via guest posting or link exchange.
Discover Question: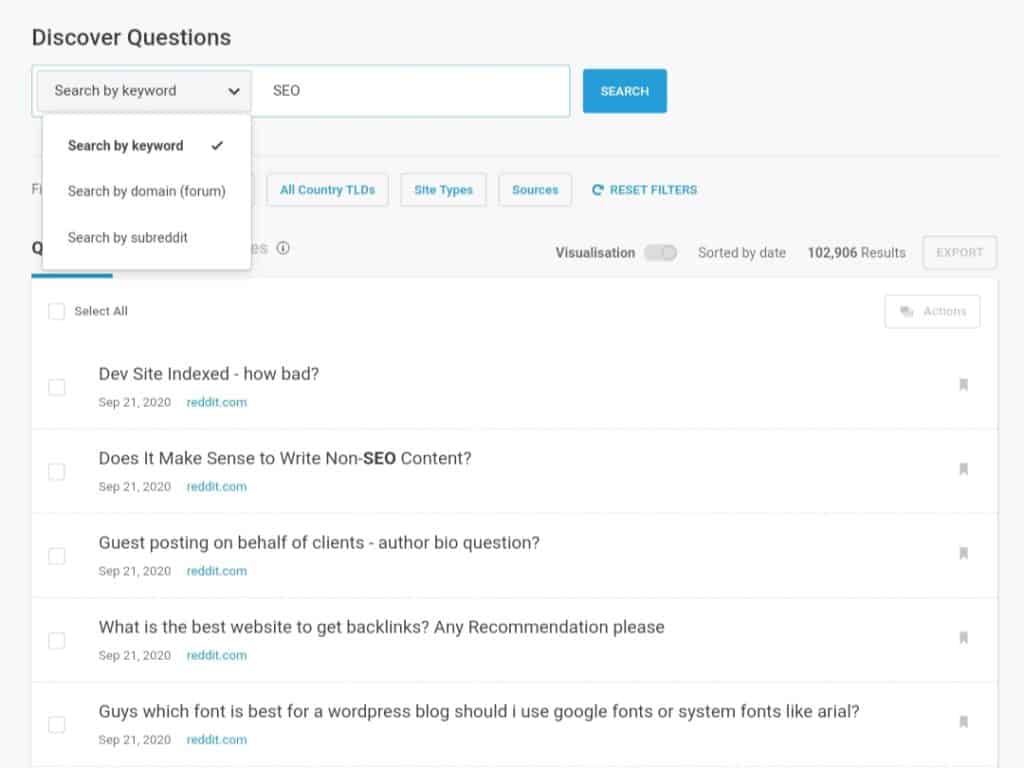 In this Section, Publishers around the world can look into the available question around the Global Internet based on the specific keyword or domain. When the content creator solves all the questions available around the internet through his blog post, then, the post becomes the best or the killer content that will rank in the 1st position for every question and get a large pool of traffic on that topic.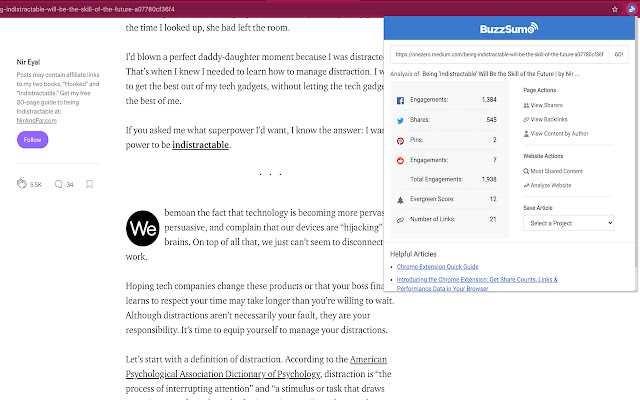 Buzzsumo uses to offer a chrome extension for its users. This chrome extension is used to offer data like Facebook Engagement, Twitter Share, Pinterest Pins, number of links and many more.
How to Install Buzzsumo chrome extension?
This is the basic way to install the chrome extension in your browser. This way has listed below:
Install the extension from the Chrome Extension store.
Make sure you have registered with the buzzsumo and login with the portal,
Just click the BuzzSumo Chrome Extension logo on any article you're viewing.
That's it – immediate analysis at your fingertips!
Use Case of the Chrome Extension of Buzzsumo:
There is too many use case of the chrome extension of buzzsumo. Some of these use cases are listed below:
Strategy: Discover which articles are gaining traction and use this knowledge to influence your content strategy.
Curation: Check if the content you're viewing is worth sharing with your audience.
Collaboration: Help your whole team save interesting articles into shared Projects.
Discovery: However, you come across content, get instant context and analysis without interrupting your workflow.
Buzzsumo Alternative:
There are too many great alternatives to the Buzzsumo content marketing tool which have similar features as this content marketing tool. We have ranked alternative content marketing tools on the similarities. Some of these ranked free and paid buzzsumo alternatives are listed below:
Social Animal: #1 Paid Buzzsumo Alternative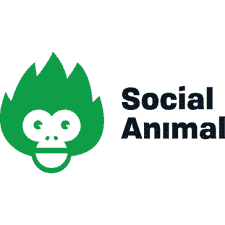 The Social Animal is a content Marketing Tool having almost the same features like Buzzsumo content marketing Tool. The major difference between these content marketing tools is their Price. The monthly cost of Buzzsumo starts at 99$ while 49$ for social monkey for the same period of time. You can get a detailed overview of the social media content marketing tool in the following GIF.

Ninjaoutreach: #2 Paid Buzzsumo Alternative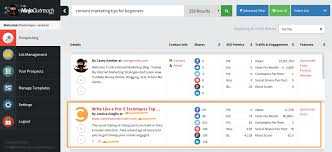 The Ninjaoutreach is nothing but a tool for a company to get the perfect influencer for its Brand. They search youtube, Instagram, Tiktok, as well as Twitter to find the perfect match of influencers for the Brand. It has only one alternative feature to Buzzsumo. Here is a detailed review "Ninja outreach review".
Sproutsocial: #3 Paid Buzzsumo Alternative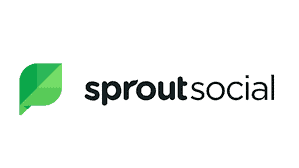 SproutSocial has almost each and every feature of Buzzsumo and we can say it is a true alternative to Buzzsumo. It has one extra feature that is social Engagement which makes this tool a more powerful tool. If we talk about the cost, we find users of BUZZSUMO have to pay 99$ for every single month while the user's of SproutSocial have to pay 99$ with one extra feature. (here is review to Sproutsocial with it's the best alternative.)
Oktopost: #4 paid Buzzsumo Alternative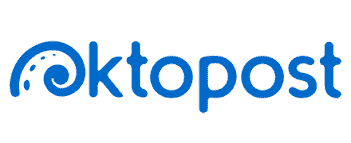 The Oktopost is a B2B tool for content marketing for business to Effortlessly manage, organize, and schedule your B2B marketing content across multiple profiles, networks, and campaigns. It also offers a social media management system in its platform. (Here a detailed review of oktopost with the great alternative.)
Scoopit: #5 Paid Buzzsumo Alternative

Scoop.it is a content curator tool for business. Businesses can gather the best content idea from the internet and can share these curated content around there whole fan base. Scoop.it also offers website curation for websites, Knowledge sharing, Social Media, Personal branding and many more. For more detail review with the best alternative
Mention: #6 Paid Buzzsumo Alternative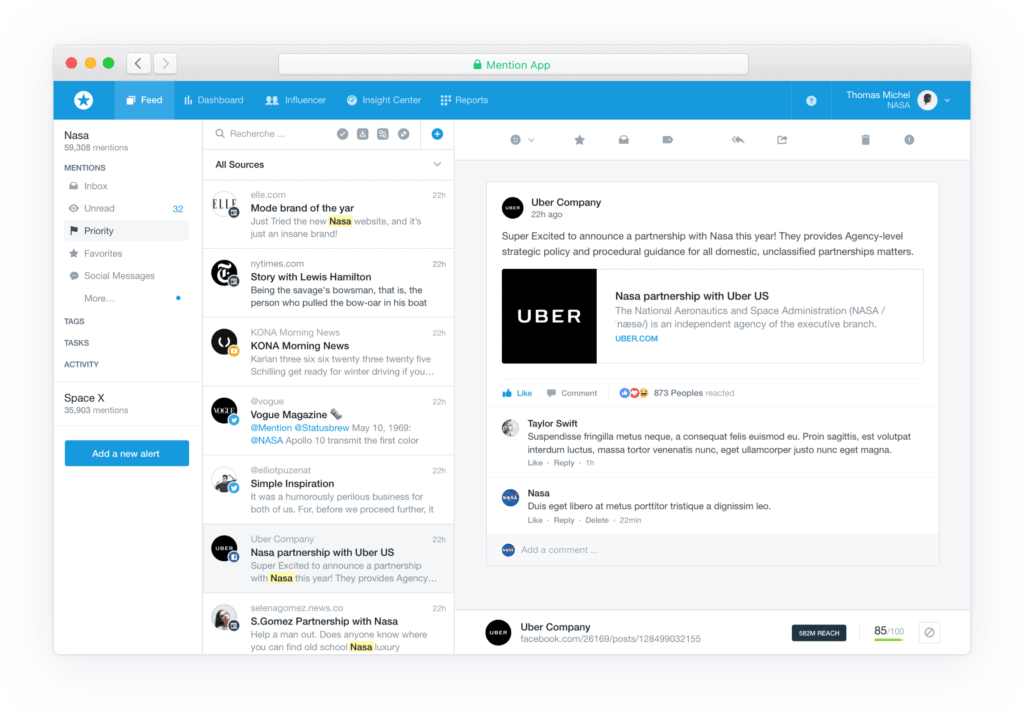 We can call Mention a good buzzsumo alternative as both have almost similar features. Through MENTION, you can Easily monitor over 1 billion sources across the web daily. You can also listen and learn from social media data. Filter and analyze posts from multiple sources to improve your marketing strategy. All filters of the mention help you to create a great strategy for the website to rank higher in the SERPs.
ContentStudio: #7 Paid Buzzsumo Alternative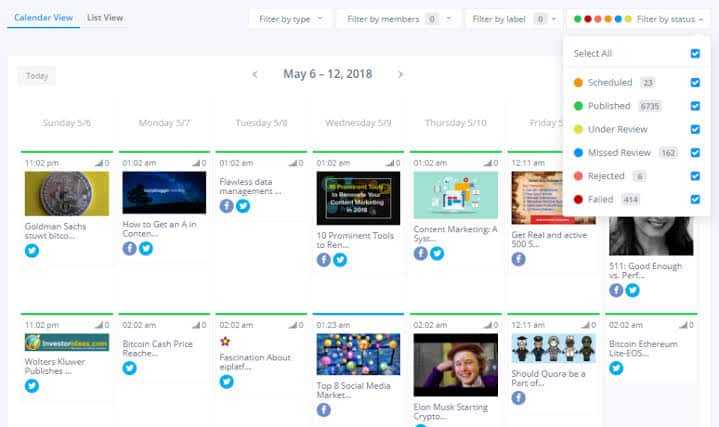 Content studio SEO Tools is the best and leading BUZZSUMO alternative content marketing tool in the class. In Contentstudio, the content creator can discover Content Ideas, strategy, and so on. However, This tool is a cheaper tool in comparison to BUZZSUMO as its price starts at 49$.
Currently, it offers its service to many of the leading MNC around the world. These MNC are Unilever, New York City, Mint social, and many other Multinational corporations and University around the Globe. You can check many outstanding user-case of success from its website. At last, I only want to say it is the perfect alternative to the Buzzsumo content marketing tool.Signup Now To contentstudio
Hootsuite: #8 Paid Buzzsumo Alternative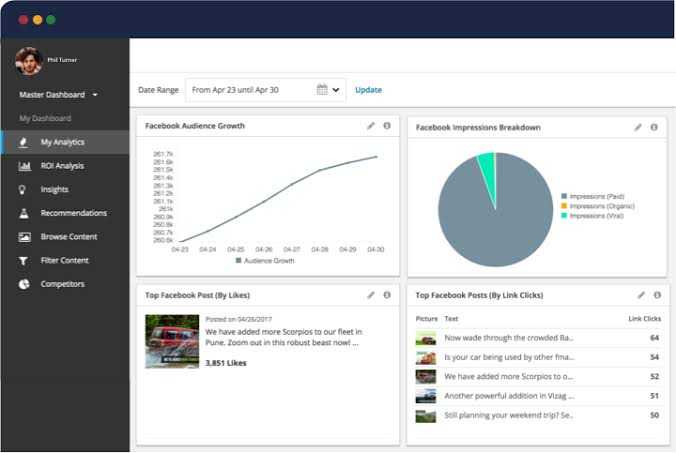 This is also a Good Buzzsumo alternative as this tool also offers almost every feature offered by HOOTSUITE. The plan starts with 20$ a month which is much economical in comparison to BUZZSUMO for more features than BUZZSUMO. (here a detailed review of Hootsuite with its best alternative.)
SocialPilot: #9 Paid Buzzsumo Alternative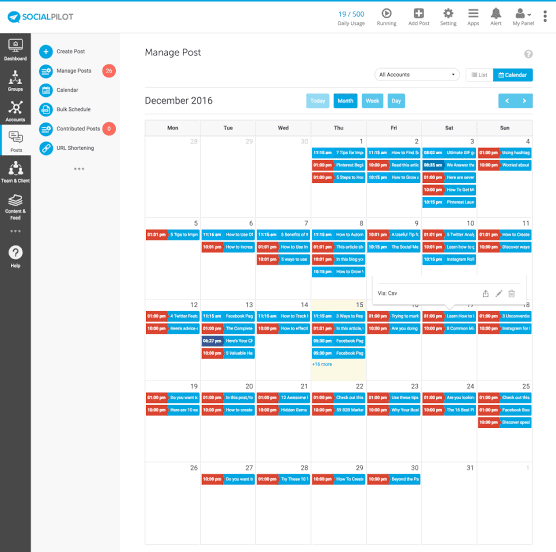 Socialpilot is a content marketing tool that is a good BUZZSOMO alternative. The Socialpilot only offers content curation, Bulk scheduling as well as for analytics of your website. Social Pilot offers great content creation for Blog, Websites and Social Media Platforms.
The Pricing and features offered by Social Pilot combinedly makes it one of the greatest alternative to the buzzsumo.Signup Now for Free Trial
Upfluence: #10 Paid Buzzsumo Alternative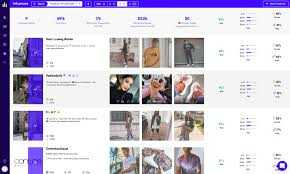 The Upfluence is a software-based marketing solution that helps to identify the organic influencer from 20+ criteria and a pool of 4B+ influencer makes it one of the good alternative of BUZZSUMO for BRANDS, Content creators, and business.
Klear: #11 Paid Buzzsumo Alternative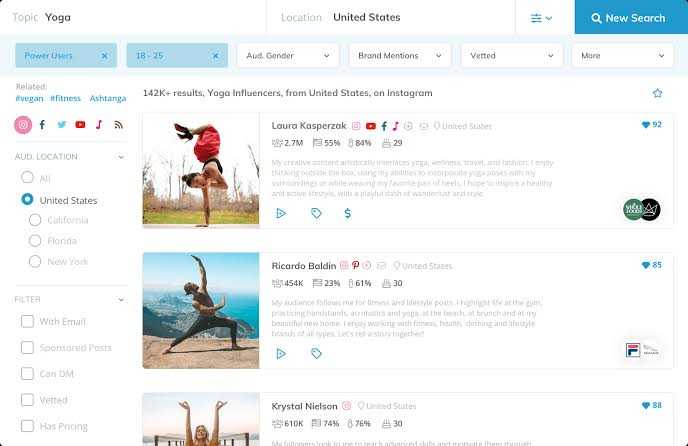 Klear is an influencer marketing platform that helps brands build, scale, and measure influencer campaigns. It helps the brand to find the best-fitted Influencer for their brand using many filters. The price range of klear starts at 99$.
Traackr INC.: #12 Paid Buzzsumo Alternative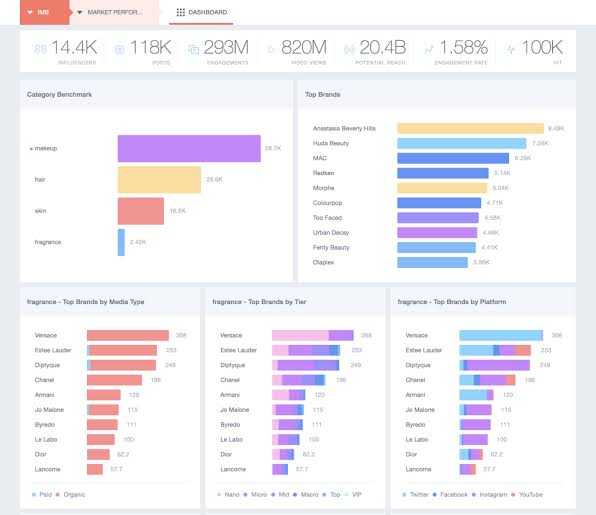 Traackr is a solution for brands to gather information regarding brand safety, Discover Perfect influencer, and many more. All these properties make it a good alternative to Buzzsumo.
Semrush: #13 Paid Buzzsumo Alternative
During my review for Buzzsumo alternative, I found semrush is a great alternative to the other content marketing tool. Buzzsumo only offers content curation and Social Management tool while semrush offers content curation, Social Management tool and SEO tools. If we check price to product ratio, then, we will find Semrush is far ahead of the Buzzsumo. Thus, It is the perfect alternative to Buzz sumo with more value to money ratio. Here a detailed Review – Semrush Review.Signup Now Semrush
Rankactive: #14 Paid Buzzsumo Alternative
Rankactive is a great alternative to Buzzsumo. The tools offered by Rankactive ranges in between keyword Research, Backlink Audit, Content curation and other tools. These tools combinedly make a superior platform in comparison with the buzzsumo. Rankactive can help you to improve your SEO. Here a detailed review of Rankactive with the best alternative.
Pocket: #15 Paid Buzzumo Alternative
It is a content curation tool through which a webmaster or Influencer can circulate on more than 1500 online platform. These features make it highly competitive to the Buzzsumo content curation tool. However, many webmasters use Buuzsumo With Pocket. Combinally, both platform makes a great platform.
Postplanner: #16 Paid Buzzsumo alternative
Post planner is content curation and scheduling platform. It can help you to engage and grow followers. It will help you to grow the likes of your post by more than 550% month on month. these highly persuasive decisions make it a highly competitive content curation tools with respect to Buzzsumo.
Contentgems: #17 Paid Buzzsumo alternative
The tools you will get in the Contentgems platform is very very good. It will help you a lot in content curation and social engagements.
Way forward: Paid Buzzsumo Alternative
During our detailed review for buzzsumo alternatives, we find these 12 buzzsumo alternatives. These alternative are the best alternative an offers exactly same or more feature. Some of these alternative's price is quite cheaper in respect or offers more value for your money.
So, in my point of view, If you want to use paid content marketing tool, you should use the perfect product that offers high value to money.
Free Buzzsumo Alternative:
There are too many free Buzzsumo Alternative. These are very powerful in themselves, some of the best semrush alternatives are listed below:
Google Trend: #1 Free Buzzsumo Alternative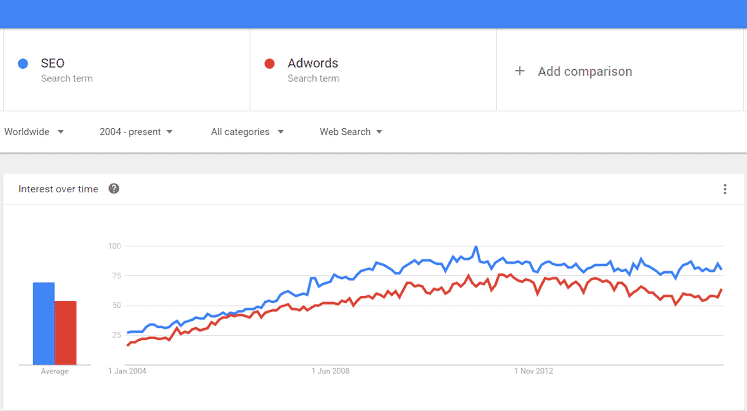 Google Trends is easy to access Keyword Planner tools for any content writer. Business or Content Creator can check the trend of any Keyword in the worldwide or specific Zones(Countries). With the help of Google trends, you can easily access historical as well as current demand of any industry or niche.
Thus this research gives you perfect insight to plan the future strategy of your industry. This insight makes google trends a perfect candidate to Buzzsumo free alternative as it is available for free.
Alltop: #2 Free Buzzsumo Alternative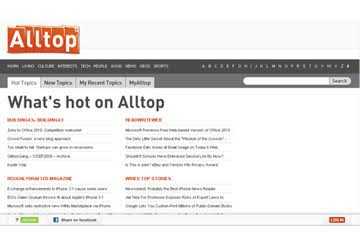 Alltop is a content discovery network to find what's trending, which content is fit for the publisher, and what is the perfect time to publish those curated content? All of these properties make it the leading BUZZSUMO free alternative in the market.
Feedly: #3 Free Buzzsumo Alternative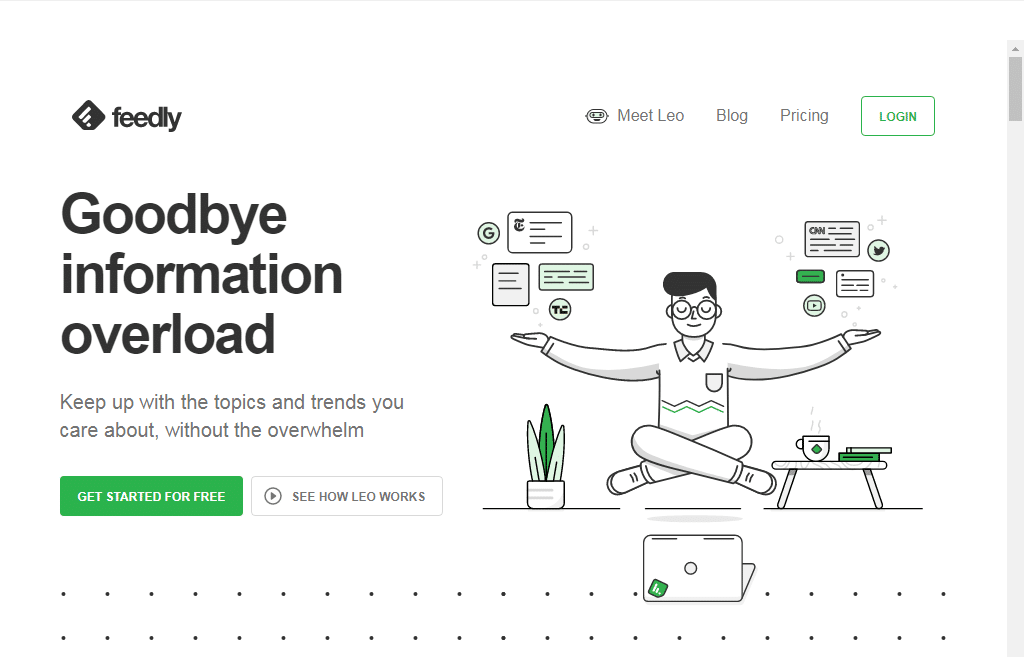 There are two versions of Feedly, namely, free and paid Version. The Free version of the Feedly becomes a good buzzsumo free alternative 2021 as the Feedly's free plan on the web and on mobile allows you to follow up to 100 sources and organize them into 3 feeds. Though the primary Source for the content for free Version is Google Newsfeeds.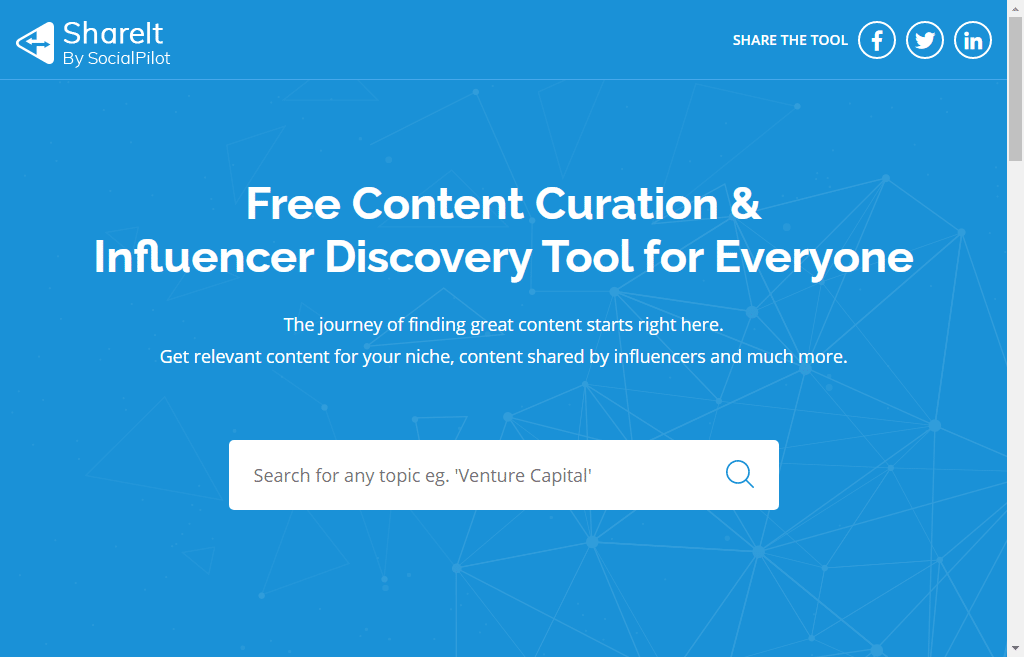 Shareit by Socialpilot is a free content curation tool and Influencer Discovery Tool for everyone around the world. The platform shareit use to backed by the social pilot which use the tool of the social pilot. The data you get is good and gives great features in comparison to other tools. These properties make Shareit the greatest buzzsumo free alternative in 2021.
Curata: #5 Free Buzzsumo Alternative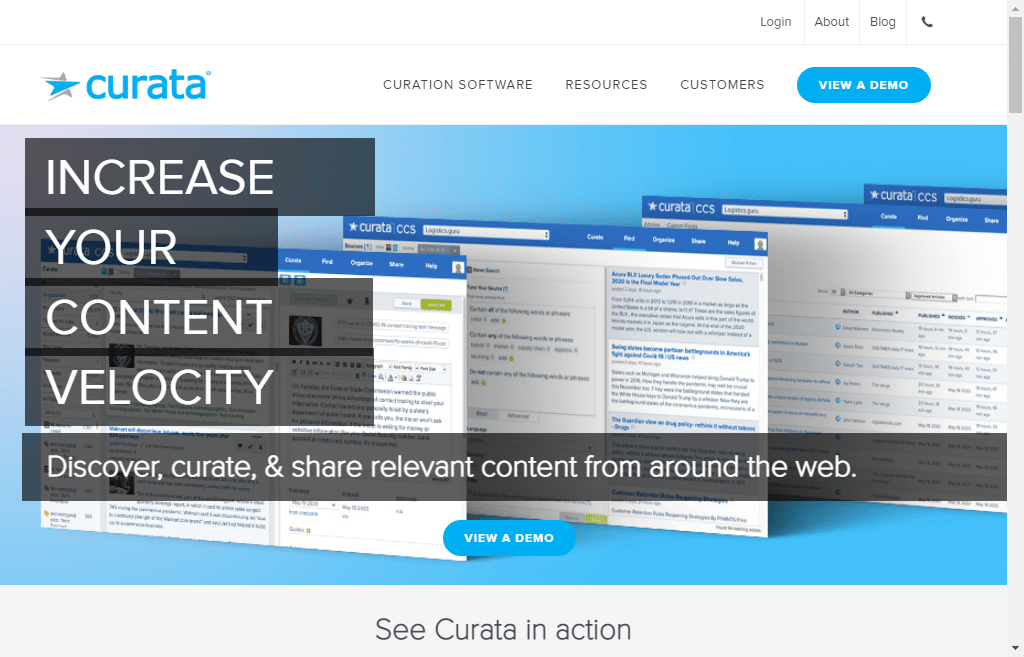 It is a leading content curation platform around the world and one of my favourite tool due it's User Interface. Anyone can increase Public portfolio with the help of this tool. They offer a demo for 14 days for free. These 14 days become a game-changer for a webmaster around the world and becomes the greatest free alternative to Buzzsumo.
Way Forward:
During our Buzzsumo Review, We went through a lot of Facts and figure to figure out how much good or bad is Buzzsumo. If we conclude the whole review, we find Buzzsumo is a masterpiece Content Marketing tool in the market. There is a lot of lop hole of this content marketing tool as like it's pricing.
What Are the Best BuzzSumo Alternatives?
There is too many Free and Paid alternative to Buzzsumo. These alternatives are Social Animal, Ninjaoutreach, Sproutsocial, Oktopost, Scoop.it, Mention, ContentStudio, Hootsuite, SocialPilot, Upfluence, Klear, and Traackr INC are paid while Google Trends and Alltop is a free Buzzsumo alternative.
How to use buzzsumo for free?
Buzzsumo use offers a free plan to its user with a limited number of searches. Just signup to the platform and get access to the platform.
What is buzzsumo used for?
BuzzSumo is a cloud-based platform that helps you discover the best engagement, content and outreach opportunities across social and search. Discover new keywords, trending stories, customer questions and content success, all while monitoring what's most important to your brand
What is buzzsumo?
BuzzSumo is a cloud-based platform that helps you discover the best engagement, content and outreach opportunities across social and search.
How does buzzsumo work?
Buzzsumo is cloud-based content curation and backlink research tool developed to find the best influencers for the brand.
A Guy Helping others to buy perfect product