SocialBu Review: Social Management Platform
Are you a content creator and you are active on lots of social media platform? Then, you use to waste lots of time during the active presence in social media. You have to post content on social media one by one. That's why we are here to review with Socialbu which is a social media management platform.
In this article, we are going to review socialbu. In this socialbu review, we are going to touch many aspects like what is socialbu?, pricing of socialbu, features of socialbu and many other aspect.
Let's start socialbu review:
What is socialbu?
Socialbu is a social management platform established in 2018 by Glaxosoft LLC having headquarters in the USA. SocialBu will also help you to improve your social media presence and maximize your results.
With the help of Socialbu, you can manage almost every popular social media platform around the globe. Mostly, you can manage Facebook, Twitter, Instagram, Linkedin, Google My Business and many others. Most importantly, the content creator can track trending hashtags on the various social media platform. This will help you reach a larger chunk of people at a high pace.
Pricing: Socialbu Review
We often known socialbu has lots of features that use to cost monetary value to the publisher. So, the pricing of socialbu is listed below that we found during the review.
During our review, we found its uses to offer five plans to its publisher. Let's start the detailed discussion of socialbu in term of pricing.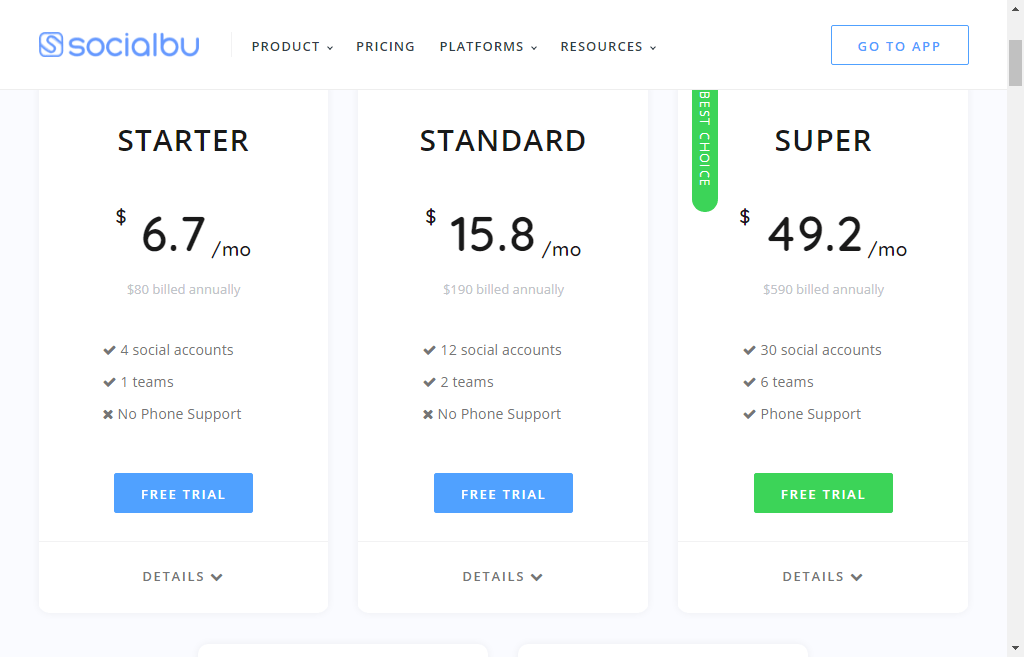 Free Plan: You can manage 2 social media account with 40 posts per month, You does not have to pay for a Free plan.
Starter Plan: You can manage 4 Social Media Account with 150 posts per month, you have to pay $8 per month for the starter plan,
Standard Plan: You can manage 12 Social Media Account with 800 posts per month, You have to pay $19 per month for the standard plan.
Super Plan: Webmaster can manage 30 Social Media Account with unlimited Per month, You have to pay $59 per month for the super plan of Socialbu
Supreme Plan: Business can manage 150 social media account with unlimited posts per month. You have to pay $199 per month for the supreme plan of socialbu
Socialbu Alternative:
During the socialbu review, we can't able to find lots of high efficient alternative to it. We can found these best alternative to socialbu. These alternatives are listed below:
A Guy Helping others to buy perfect product