Clickadilla Review: Optimize Your website's Revenue
Hey guys, In this article, we are going to review the Clickadilla affiliate network. In this Clickadilla Review, we are going to touch every possible aspect like "what is Clickadilla?, its CPC, CPM, Requirements, alternative and many more. Let's continue the Clickadilla review in detail:
What is Clickadilla?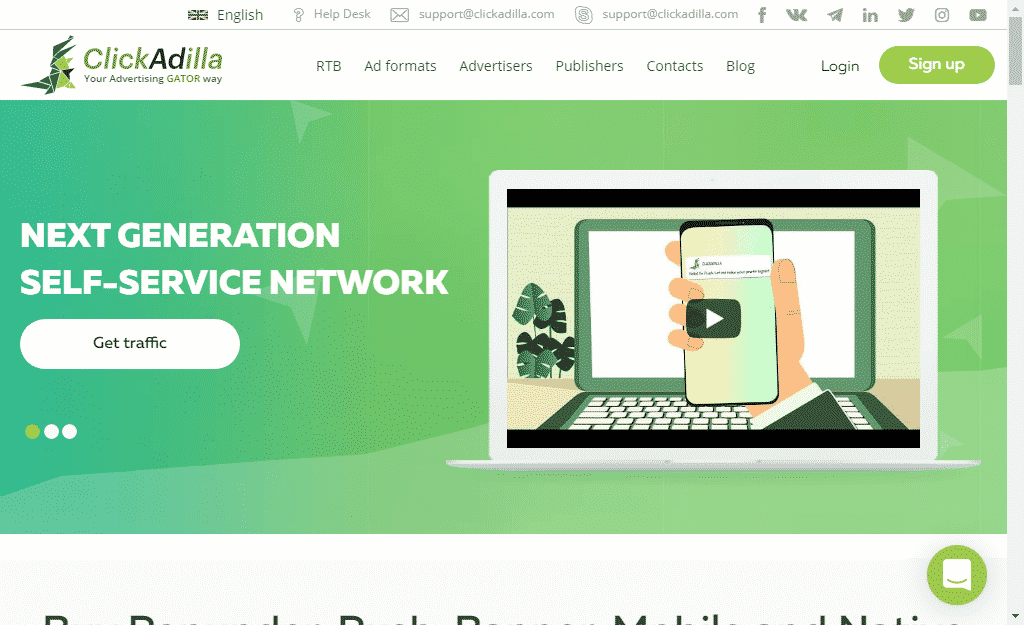 During the Clickadilla review, Clickadilla is a Gorega based ads network that serves approx 2 billion ads impression on a daily basis. Clickadilla mostly serves Push notifications of their total traffic.
Ads Vertical or Formats Supported By Clickadilla:
During Our Clickadilla review, we find Clickadilla supports approx every ads format available till now. These ads formats are listed below:
Web Push: Ads format for which Clickadilla is Popular
Clickadilla serves approx 65 million subscribers. This makes Clickadilla the biggest Push notification impression provider. Also, there is a big problem with the Clickadilla web Push as it can serve Adult and Mainstream content with the mainstream thumbnail. It serves approx 16 billion impressions.
Popunder: Unbiased from Google restrictions
Clickadilla's Popunder follows all rules and restrictions imposed by Google on abusive ads. Clickadilla serves approx 250 million impressions.
In-stream: Direct Link and In-Vast Video
Clickadilla offers video monetization via Direct Link and IN-VAST monetization. It offers 100 million impressions.
Banner: Most Popular advertising solution
Banner ads are the most popular advertising solution in the world of the internet. Banner serves approx 50% of the total internet. Total Ads served by Banner on Clickadilla is 16 billion impressions.
Native ads: A Bunch of Native Ads
The Native Ads is for CTR, it has the highest CTR on the internet. Native Ads are a bunch of Banner ads. It serves 150 million impressions. Types of Native Ads listed below:
NTV-A,B,C
In-video
Desktop Underplayer
Mobile header
Navigation Bar Link: Upcoming Trend
Navigation Bar Link is the upcoming trend for monetization in this world. It serves approx 500 million impressions.
Clickadilla Advertisers Payment Threshold:-
Advertisers of Clickadilla have to pay the respective amounts to get fund their advertising accounts. These are the following:-
Paxum – $50
Bitcoin – $50
Wire Transfer – $500
CreditCard – $300
Webmoney – $50
ePayments – $200
Paypal – $300
ClickAdilla's Targeting for Advertise:
The targeting can be done on the following basis. These bases are follow:
Geo-Based
OS-Based
Browser based
Carrier/Wi-Fi based
IP Range
Categories
Device Type/Vendors
Language targeting
Clickadilla Requirements:
During my Clickadilla review, we must say Clickadilla has no requirement to get approved or unapproved for publishers as well as Advertisers.
Clickadilla payment proof:
we are working now on Clickadilla and we will update it here when we get paid from Clickadilla.
Snapshot Clickadilla Interface:
Best Alternative to Clickadilla:
In this section, we will try to conclude the best alternative of the Clickadilla ad network that we found during the Clickadilla review. These alternatives are listed below:
A Guy Helping others to buy perfect product