Siteground Review: Does it is Best Match to your Audience?
There is too many Hosting services Provider around the world. Each has its own Cons and Pros. A newbie almost gets confused about which Hosting Providers, one should choose. So, In this post, we will review Siteground which is a managed WordPress hosting service.
Through this article, We try to Discuss each and every aspect of the Hosting Backend by Siteground. The Siteground's detailed review use to touch many aspects. Some of the aspects of this detailed review are listed below:
Plans(Pricing)
Performance (Server Speed)
Reliability
Customer Support
Pros and Cons
What is Siteground?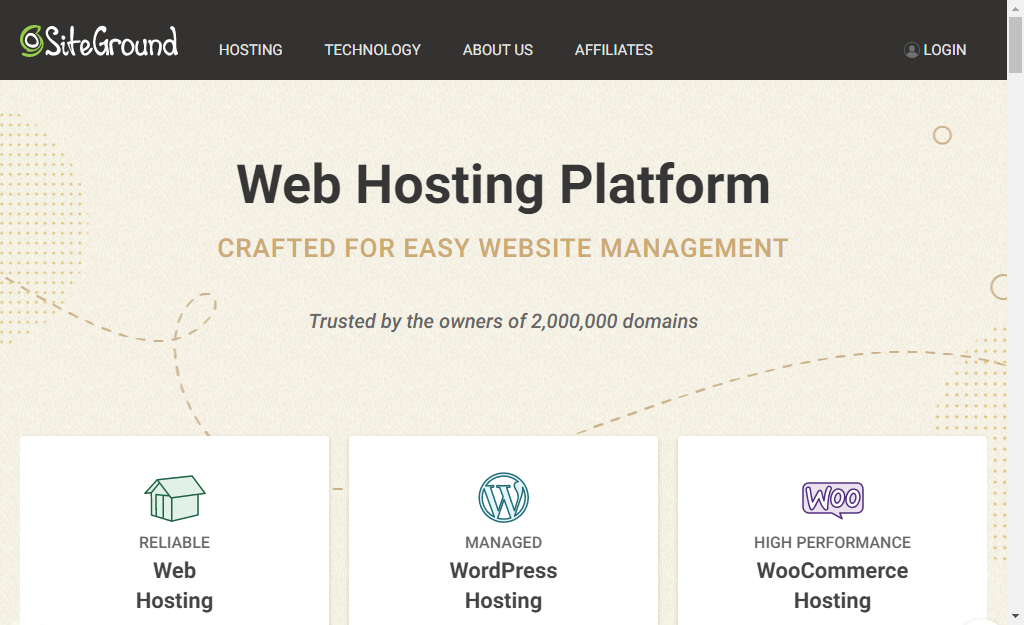 All of us must hear a lot about the hosting company Siteground.
Nowadays, Siteground has become so important Brand in the field of managed wordpress Web hosting solutions for 17 years as it started its journey in 2004.
Siteground use to offer lots of the plan to the webmaster's community. These hosting plans include shared, VPS as well as Dedicated hosting plans offered around the globe. It was founded by Tenko Nikolov in Sofia, Bulgaria. Currently, It has more than 800 staff working around the clock(24*7). Let's discuss the plans of siteground in detail:
Plans Offered by Siteground:
In this siteground hosting review, we find the following plans which are used to offer to the general public by the Siteground hosting provider. Some of these plans are listed below:
Shared Hosting: Shared Hosting uses to perfect and pocket-friendly plan for a newcomer in this Hosting Industry. Usually, a newcomer needs very simple and non-technical hosting plans and features.
VPS HOSTING: VPS HOSTING is needed for mid-level business. The website hosted in the VPS servers usually has 100k to 500k website visitors.
Dedicated Hosting: The dedicated hosting of the siteground can uphold a bunch of websites which has very high website speed.
WordPress Hosting: Normally, it is a shared hosting plan with WordPress CMS preinstalled. These preinstalled WordPress websites are highly optimized in term of security and Speed which will give you a high boost in organic traffic.
Shared Hosting: Siteground
The shared hosting of siteground come up with Three Plans, these plans are STARTUP, GrowBig and GoGeek. In this section of this article, we are going to examine all three Shared Hosting Plans one by one.
STARTUP Plans: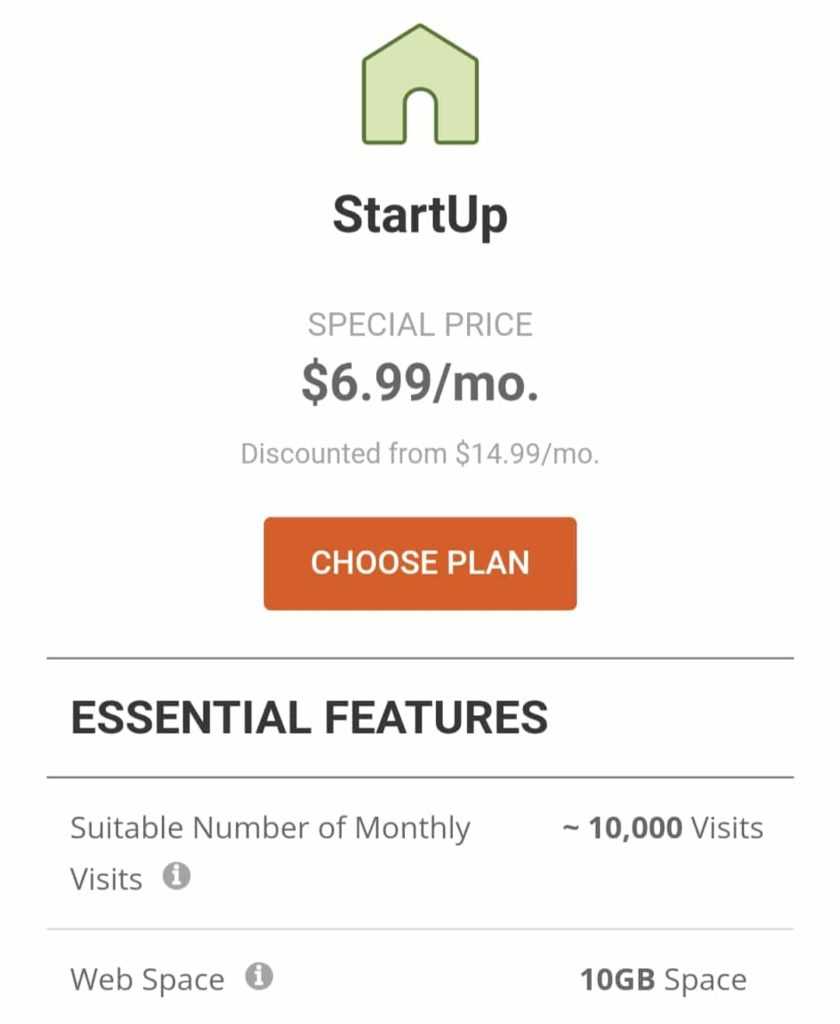 Startup Plan which is the basic plan of SiteGround cost 6.99$ per month for the first year while on renewal it costs approx 15$ per month. Under this plan, the webmaster will get 10Gb of disk space with a 10,000 website visit limit each month. If we talk about caching, users will get Level 1 caching. You will also get automated daily Backup.
GrowBig Plans: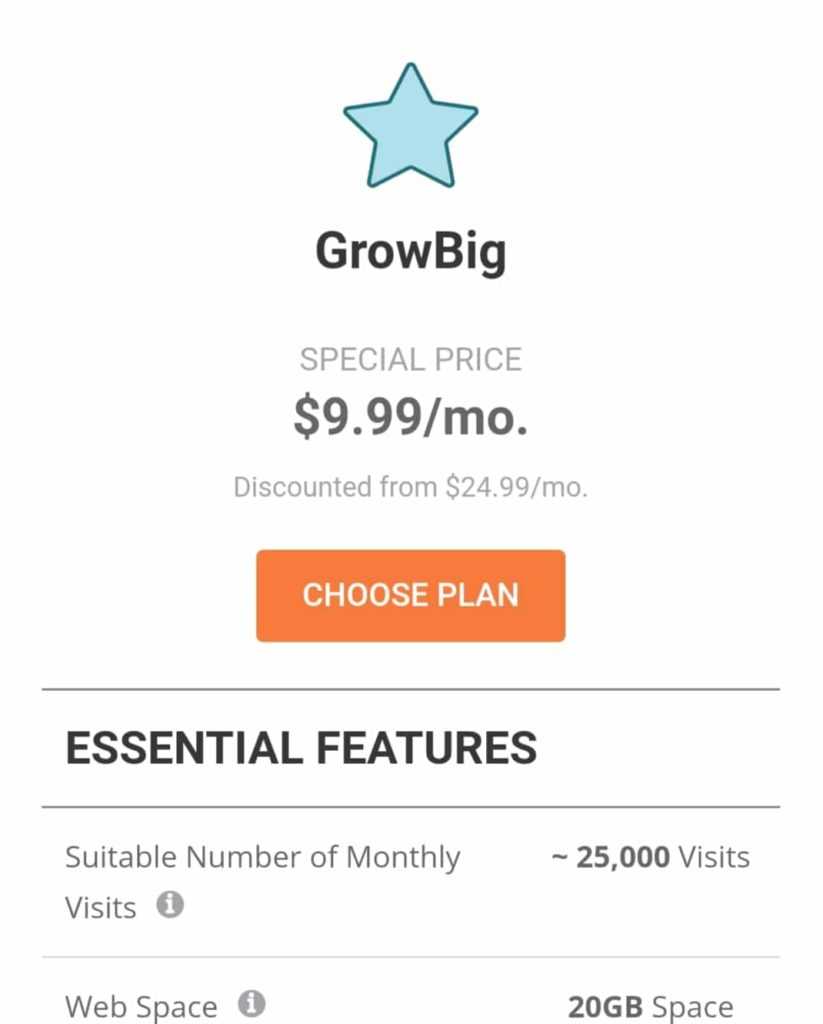 Startup Plan which is the most popular of SiteGround cost 9.99$ per month for the first year while on renewal it costs approx 24.99$ per month. under this plan, webmaster will get 25Gb of disk Space with a 25,000 visit limit per month. If we talk about caching, users will get Level 1 and Level 2 caching. You will also get automated daily Backup. Staging is a Paid ad on Feature.
GoGeek Plans: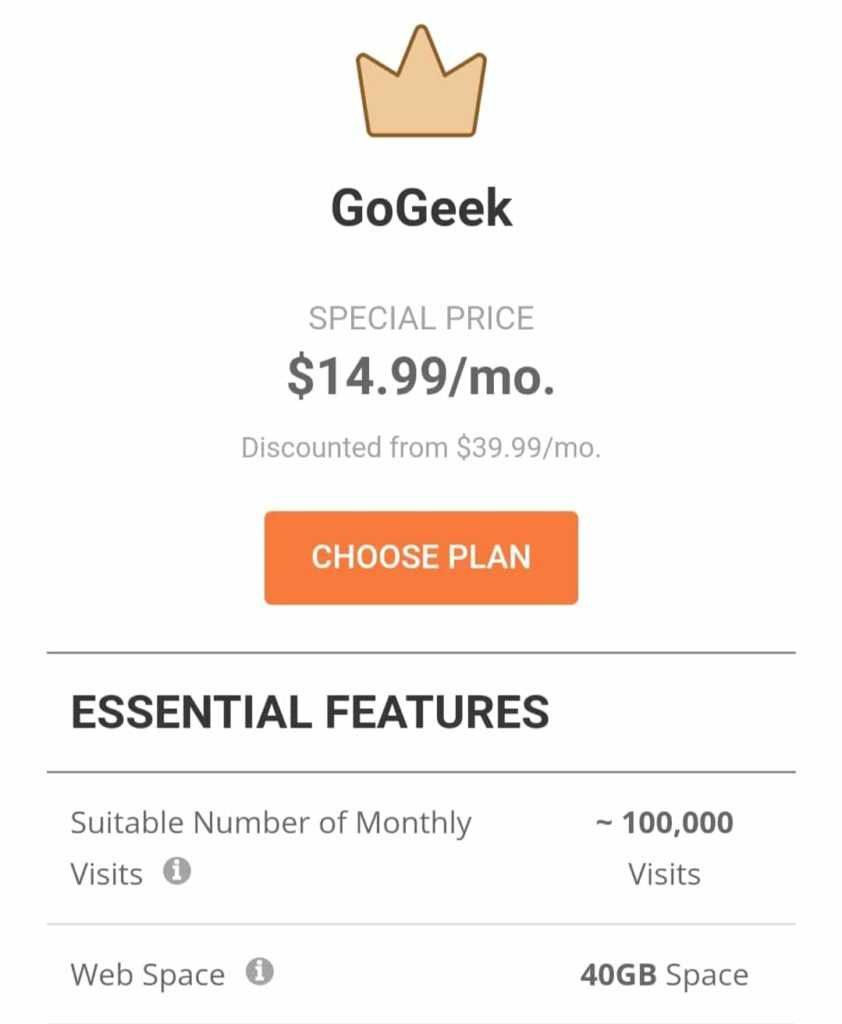 Startup Plan of SiteGround cost 14.99$ per month for the first year while on renewal it costs approx 39.99$ per month. In this plan, a webmaster will get 40Gb of disk space with a 100,000 user limit per month. If we talk about caching, users will get Level 1, Level 2 and level 3 cache. You will also get automated daily Backup. Staging is a Paid ad on Feature.
VPS Hosting:
If we talk about VPS HOSTING, We will find it's too costly in respect of other service providers of managed cloud hosting. The plans for VPS hosting starts from 80$ per month goes up to 2100$ per month. (We personally recommend Cloudways for managed WordPress hosting.)
Dedicated Hosting:
In the siteground DEDICATED HOSTING is known as Enterprise Hosting. The enterprise hosting starts from 3000$ per month with all features of VPS HOSTING and server database automatic replication.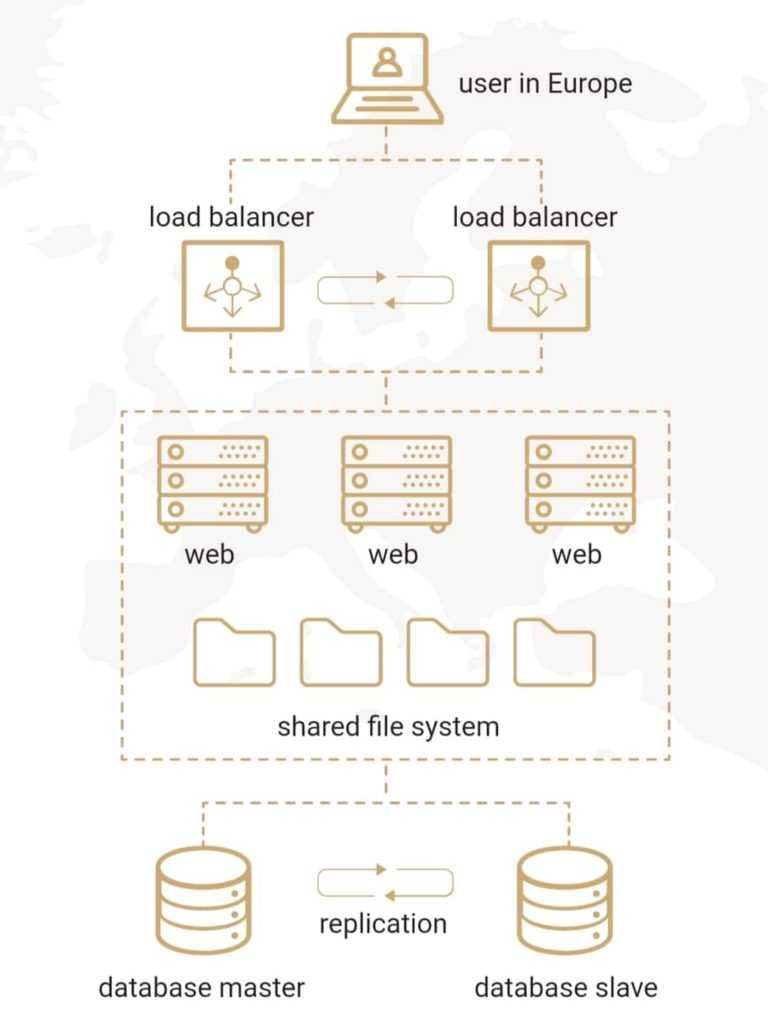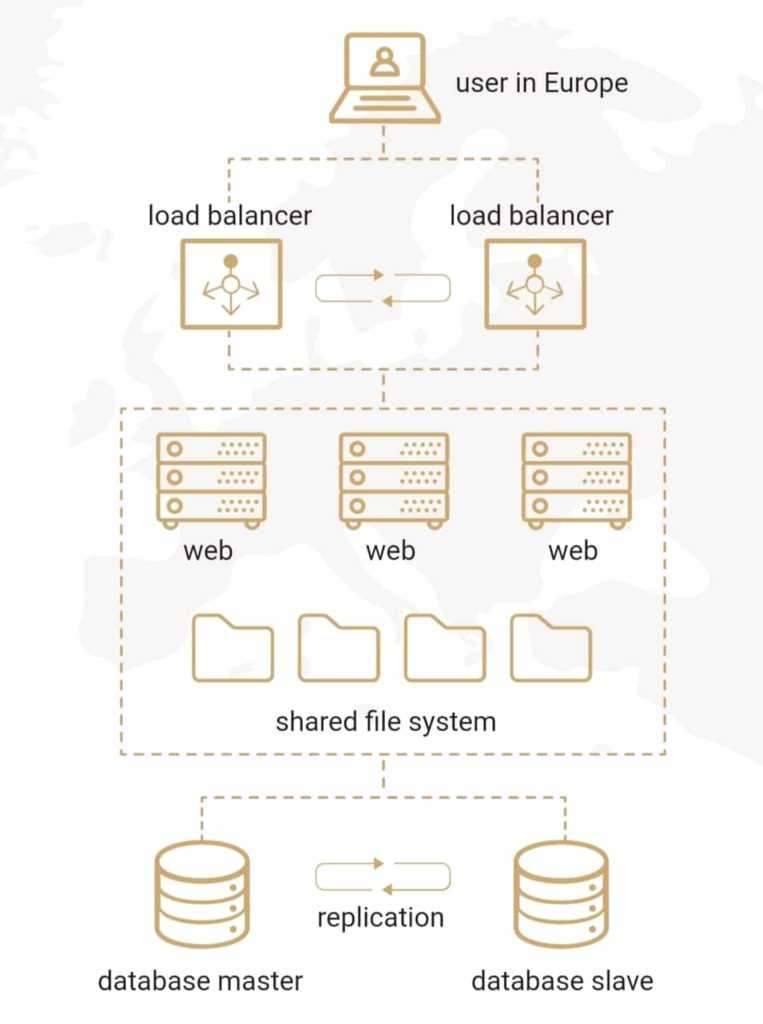 Performance (Server Speed):
In this Performance lookup Section of the siteground review, we will look into the UPTIME, Load Time, CDN, Cache Plugin, PHP Support and support to customer which is the basis on which a user buys a service. Let's start a discussion on the above features one by one.
UPTIME offered by Siteground:
Siteground Guarantee it's customers a assured uptime of 99.99%. If they fail to do so, they will provide you with free hosting. If Uptime is in the Range of 99.00-99.99%, you will get a month of free hosting and the Customer will get 1 month of free hosting for every 1% decrease in Uptime.
Ping Test: Siteground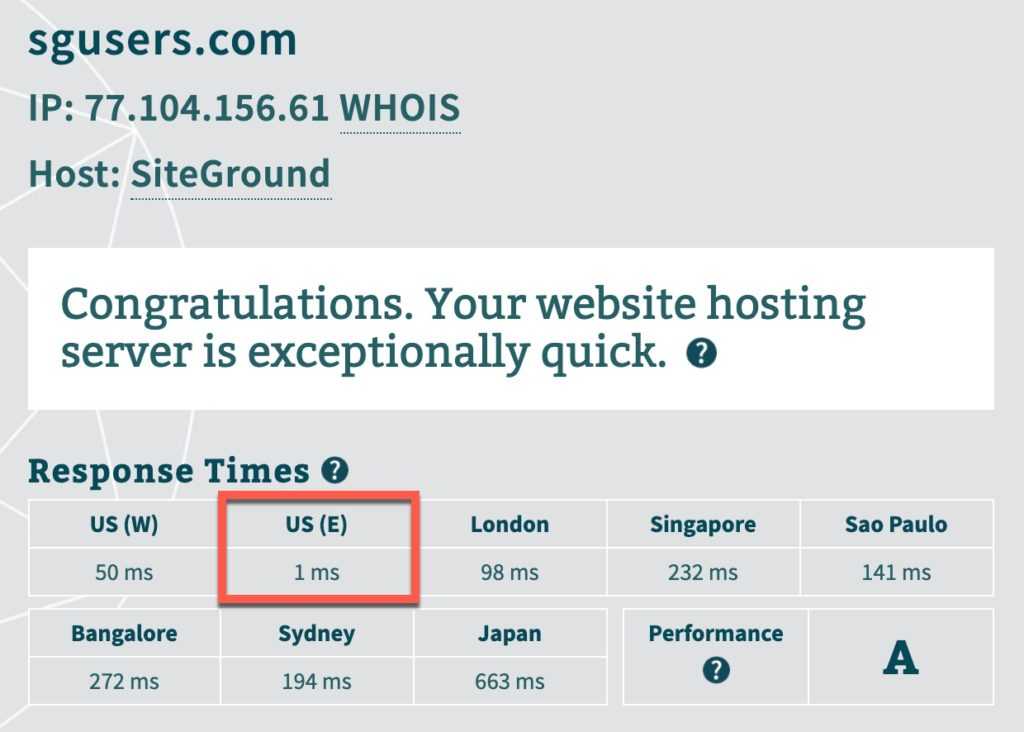 The Response time(PING TEST) of SiteGround from US, LONDON, SAO PAULO is very Good while Ping Test SINGAPORE, BANGALORE, JAPAN and Sydney is least performing location. You must have to use CDN for these least performing locations.
Note – Server is Installed in USA
Load Time:
All of our article use to load in 4.5s which is Good but not decent. Average Weight of every single Page is 1Mb hosted in SINGAPORE Server of SiteGround. I expect to get 2s from siteground with CLOUDFLARE CDN.
CDN:
All website hosted in Siteground will Get intregated CLOUDFLARE CDN'S Business plan for free. As we all known CLOUDFLARE has 196 pop edge center around the world. These edge center will make your website one of the fastest website around the world.
Cache Plugin: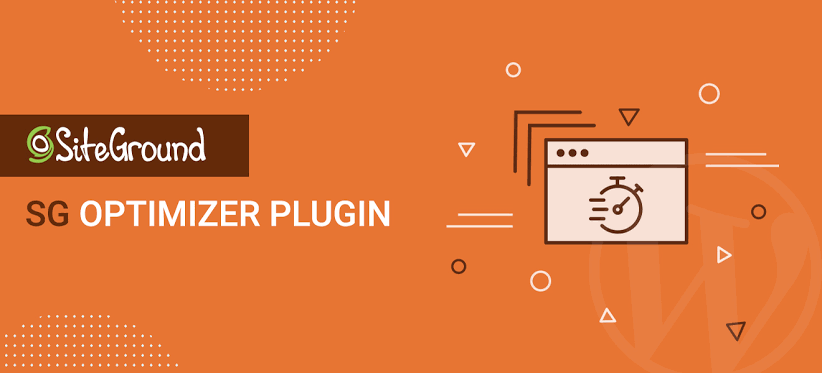 Siteground offers especially for its customers a best in class Cache plugin popularly known as SG cache optimization PLUGIN. Through the SG cache plugin, the webmaster can cache THREE layers of the website. This three-layer are dynamic level, Full Page LEVEL and NGINX direct delivery.
PHP Support:
Website hosted in the siteground will always in its latest PHP as when ever new PHP version arrives within a day or two they uses to update the PHP.
Reliability:
While choosing a host for your DOMAIN, we always check about the Reliability of that Hosting Provider. I have 5 points regarding the Reliability of your hosting:
All of the server of SiteGround is hosted in Google Cloud platform.
Siteground is a Home of 2Million+ DOMAIN.
Server of SiteGround is carbon neutral and run through renewal Energy.
Granted Uptime of 99.99%
It is recommended by WordPress.org, Toast SEO as well as WooCommerce.
Customer Support
For Now(2020), customer support on Siteground is more than 15 minutes while in 2019 the customer support is 2-3 minutes away.
Pros and cons: Siteground
In this section, we are going to discuss Pros and Cons of SiteGround Hosting service that we found during siteground Review.
Pros:
There are too many of Pros of using siteground Hosting Service. Some of the Pros are listed below:
Guaranteed Uptime of 99.99%.
Hosted in GCP(GOOGLE CLOUD PLATFORM)
Home of more than 20Lakh+ domains
All instances are isolated. One website is hacked or down doesn't effect other hosting website.
Carbon Neutral Hosting
Free CLOUDFLARE business Plan.
4 worldwide Data center.
Dedicated Firewall.
Cons:
If we talk about cons, then we will find mainly two cons. These cons are listed:
Very High Pricing, doesn't perfectly apply to Price to services
Renewal charge is extremely High.
For Now, customer support is very Harsh and delayed.
Siteground Alternative:
During a detailed review of siteground, we found lots of hosting solutions that gave great competition to siteground. Some of these great competitors are listed below:
Cloudways: Cloudways is one of the best-managed cloud hosting provider which was founded by Uzair Gadit, Pere Hospital, and Aaqib Gadit in 2009 and its headquarters is located on the island of Malta in Europe. They also have an office in Dubai as well as Spain. Till now, staffs of cloudways helped more than 15,000 customers around the world to set up 50,000+ server in the worlds best cloud infrastructure.
Bluehost: It has become so important and well-known Brand in Website hosting for the last 15 years. Bluehost started its journey in 1996. Now a day, Bluehost use to offer shared, VPS as well as a dedicated hosting plan to host websites around the Globe. It was founded by Matt Heaton and Danny Ashworth in Provo, Utah. It has more than 800 staff working around the clock(24*7). The Servers of Bluehost are only located in the United State of America.
Chemicloud: The hosting offered by the chemicloud is mind blowing. The latency offered by the Chimcloud is good as the data center offered by the chemicloud is scattered all around the globe which mean users as well as servers will get an average latency of .03s to .8s around which is curently preety good for the Web servers. However, this cloud hosting provider use to offer very less letancy in comprision
Conclusion or Way forward:
At last, we must say siteground is one of the Great class service providers while it's too pricey that doesn't economical for a low or medium-traffic website. Its shared hosting plan is very much overpriced in terms of another Hosting provider. If you think to buy siteground Hosting Service, then, don't buy its Hosting service. In place of the siteground Hosting service, you must Prefer Cloudways Hosting Service or EASYWP from Namecheap Hosting Service.
More To Read:
A Guy Helping others to buy perfect product