Trafficstars Review: Mind-blowing Adult Ad Network
After dedicating an extensive amount of time, totalling hundreds of hours, and meticulously orchestrating the execution of over 800 exceptionally profitable campaigns for our valued clients spanning the entire globe, we are excited to share our in-depth analysis and insights in this comprehensive TrafficStars review.
Hello everyone, in this article, we will delve into various aspects, including an exploration of Trafficstars, the supported ad formats, the prerequisites, evidence of earnings, CPC and CPM rates, and much more. Let's kick off our trafficstars review!
What is Trafficstars?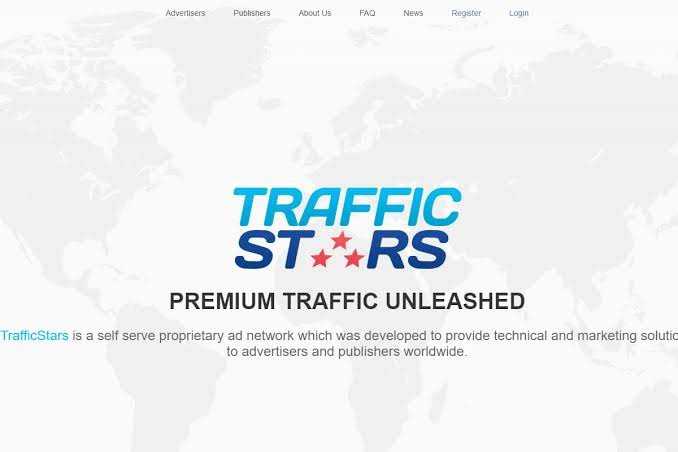 TrafficStars is a prominent and innovative digital advertising platform that has carved its niche in the highly competitive online advertising industry. Founded in Cyprus in 2014, this company has consistently remained at the forefront of the digital advertising landscape, offering a wide array of services and solutions to advertisers, publishers, and marketers worldwide.
At its core, TrafficStars serves as a bridge, connecting advertisers looking to promote their products or services with publishers who have available advertising space on their websites or applications. The platform's primary objective is to optimize the ad buying and selling process, ensuring that ads are displayed to the most relevant and engaged audiences.
Video: Trafficstars Review in 2023
Things to Read:
Key Features of TrafficStars:
Global Reach:
TrafficStars boasts an extensive network that spans the entire globe, making it a valuable tool for advertisers seeking to reach an international audience. With a presence in numerous countries, this platform provides access to a diverse and widespread user base.
Ad Formats:
One of the standout features of TrafficStars is its support for a wide range of ad formats. Whether you prefer traditional banner ads, native ads that seamlessly blend with content, or even popunders that appear beneath the current browser window, TrafficStars has you covered.
User-Friendly Interface:
Navigating through the TrafficStars platform is a breeze, thanks to its intuitive and user-friendly interface. Advertisers and publishers can easily create and manage their campaigns, monitor performance, and make data-driven decisions.
Advanced Targeting Options:
To maximize the effectiveness of ad campaigns, TrafficStars offers advanced targeting options. Advertisers can refine their audience based on factors such as demographics, location, interests, and browsing behaviour, ensuring their ads reach the right people at the right time.
Real-Time Analytics:
Data is king in the digital advertising realm, and TrafficStars provides real-time analytics and reporting tools to empower users with valuable insights. This allows for ongoing optimization and making informed decisions for better campaign performance.
In the subsequent sections of our TrafficStars review, we will delve deeper into how to use TrafficStars, the ad formats it supports, the requirements for getting started, and even share some valuable insights on earnings potential. So, let's dive right in!
Campaign Creation AT Traffic Stars:
Campaign Creation at Trafficstar includes three steps. These are namely
Setting
Audience and Pricing
Creatives
Let us discuss these three steps in a very detailed manner:
Setting: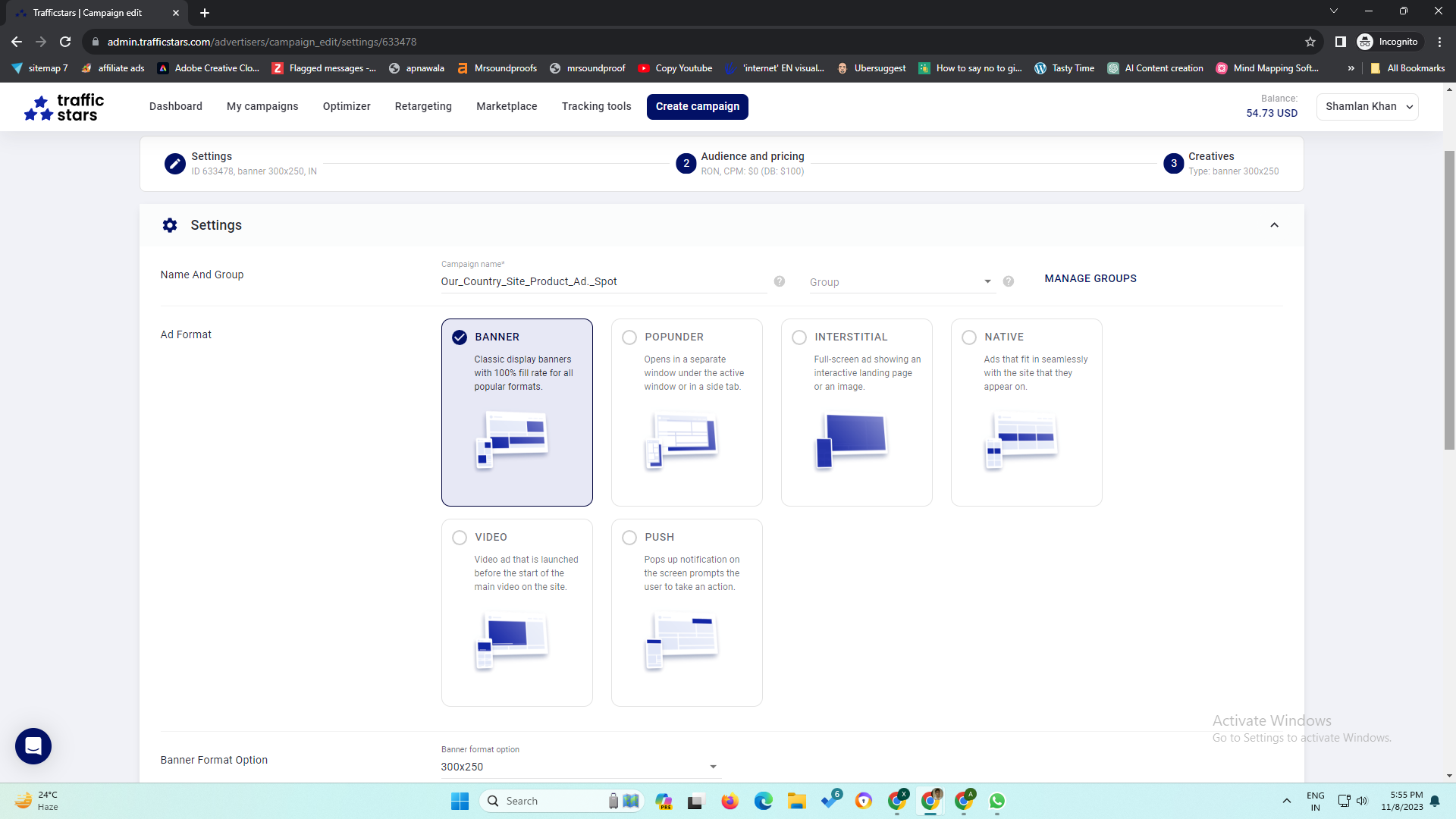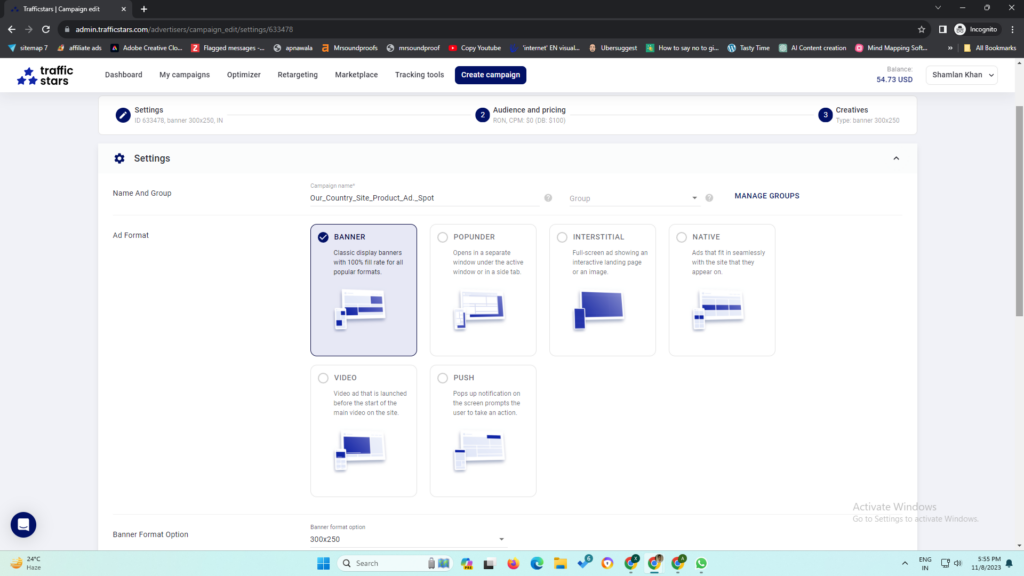 Under the setting section, you need to select Ad Formats (Banner, Popunder, Interstitial, Native, Video and PUSH Notifications) and the ad sizes of the banners.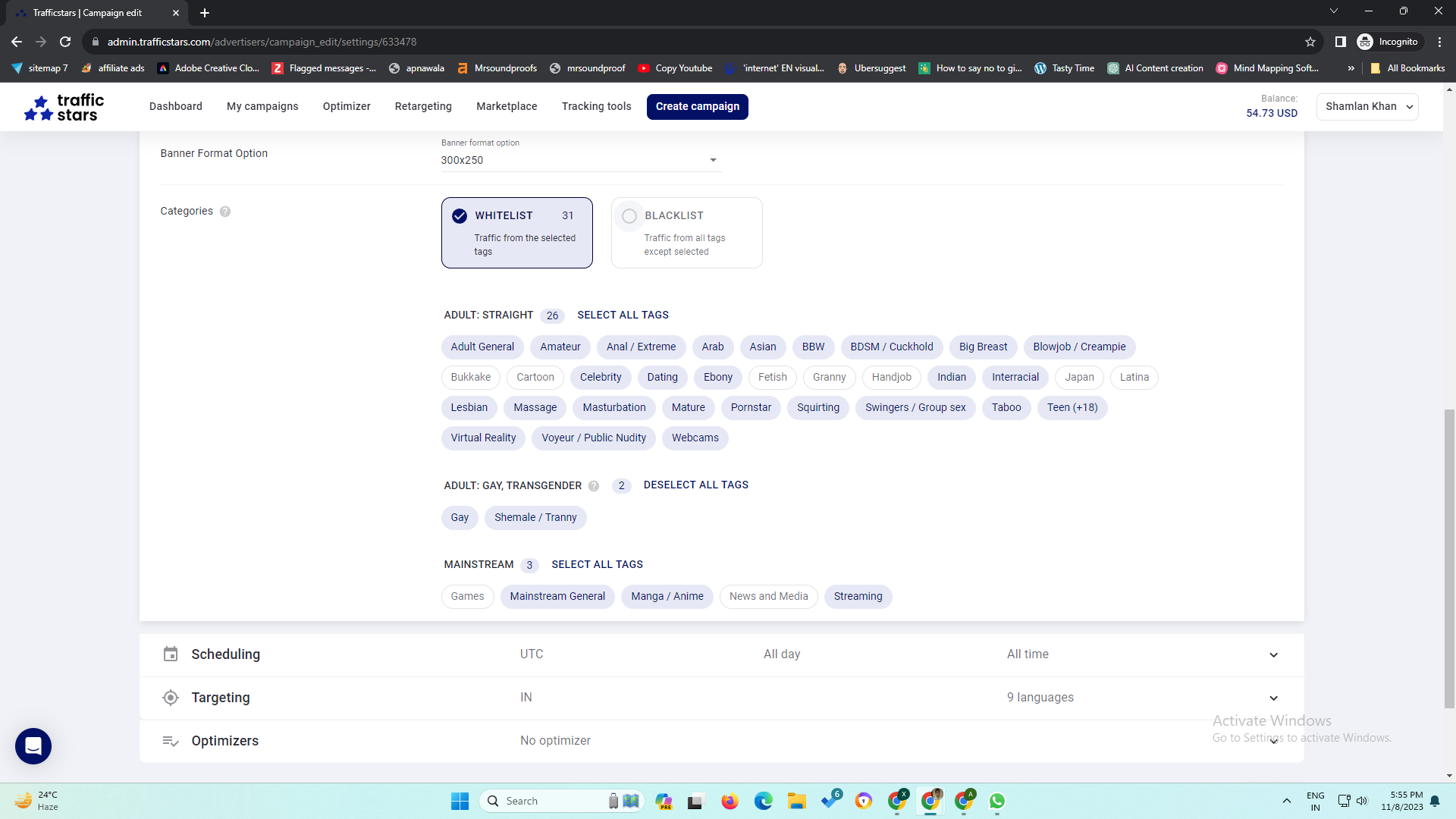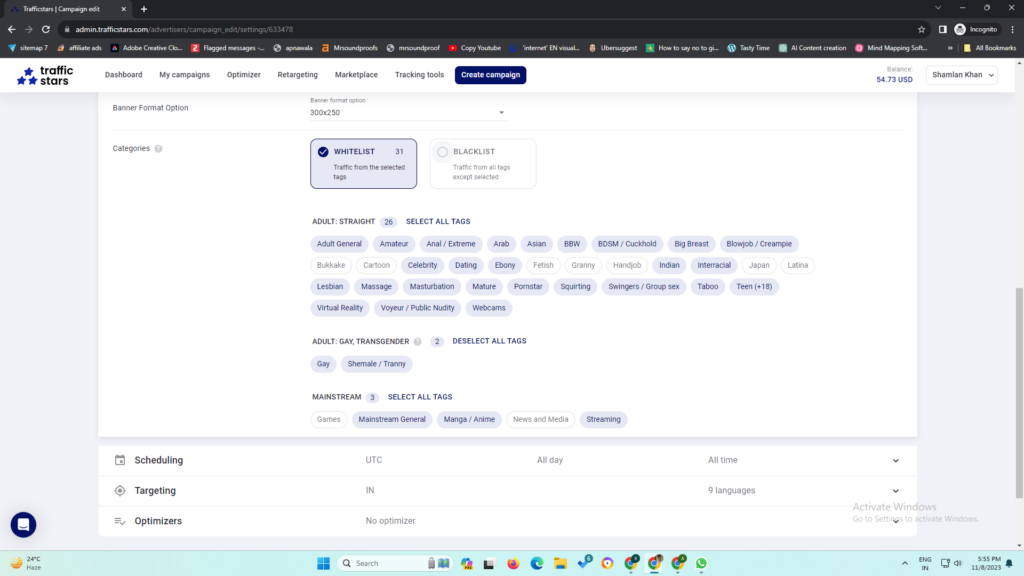 After selecting the ad formats, you need to select the websites' Scheduling, Targeting, and optimizers.
Under the targeting section, you can optimize your Ad campaign. These benchmarks are "Countries And Regions, Languages, Devices, Operating Systems, Operating System Versions, Browsers, Carriers, Proxy Traffic Type, Device Brands, Device Release Date, Retargeting, and optimizers".
Audience and Pricing:
This Section is divided into parts namely Audience and Pricing. Let us discuss these two;


They offer three types of Adult traffic Audiences (Run of Network, Prime, and Members Area) based on two types of traffic sources (Direct Inventory and Partner Networks). Out of these traffic types, Prime and Direct Inventory are the most efficient traffic types.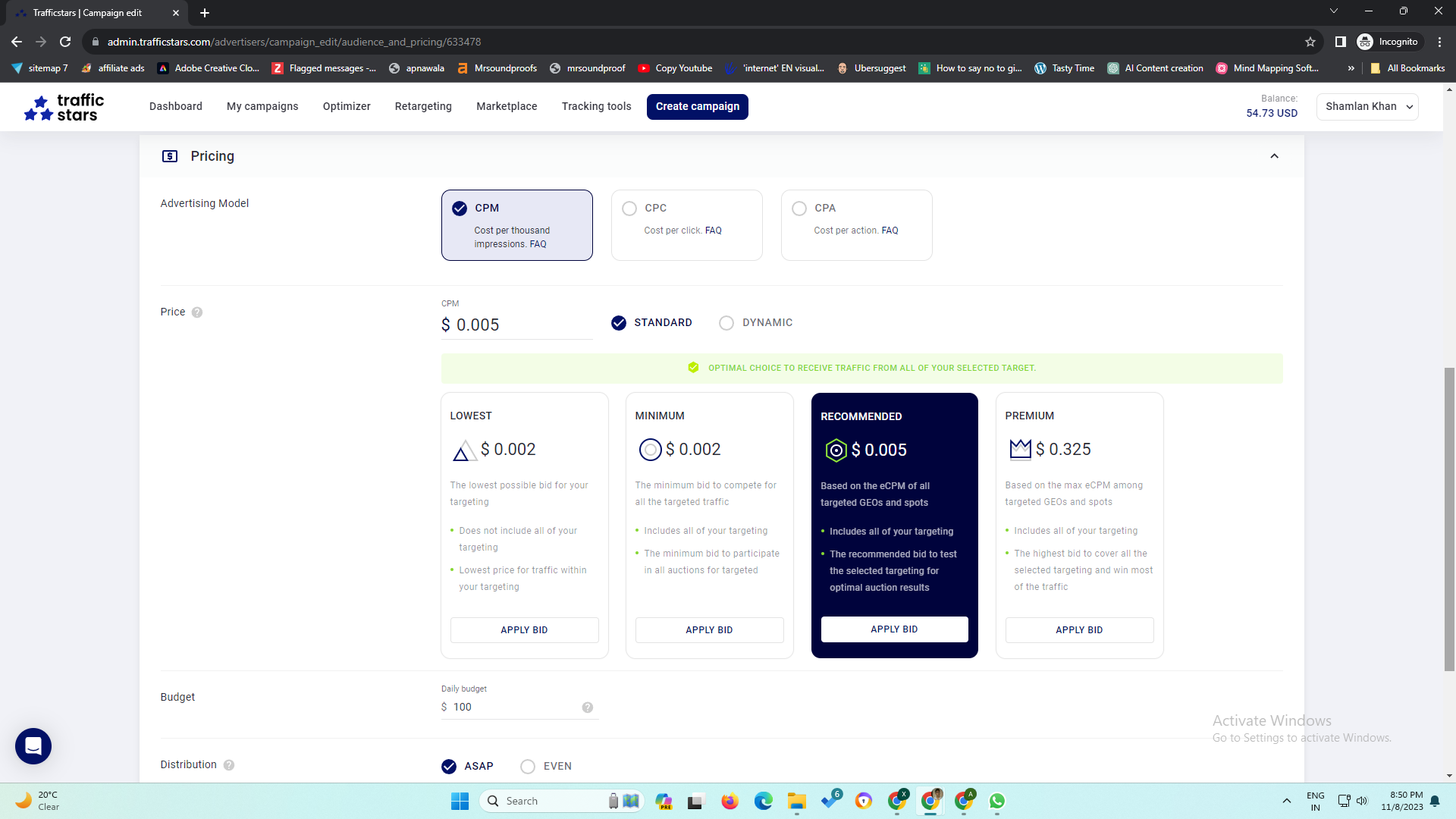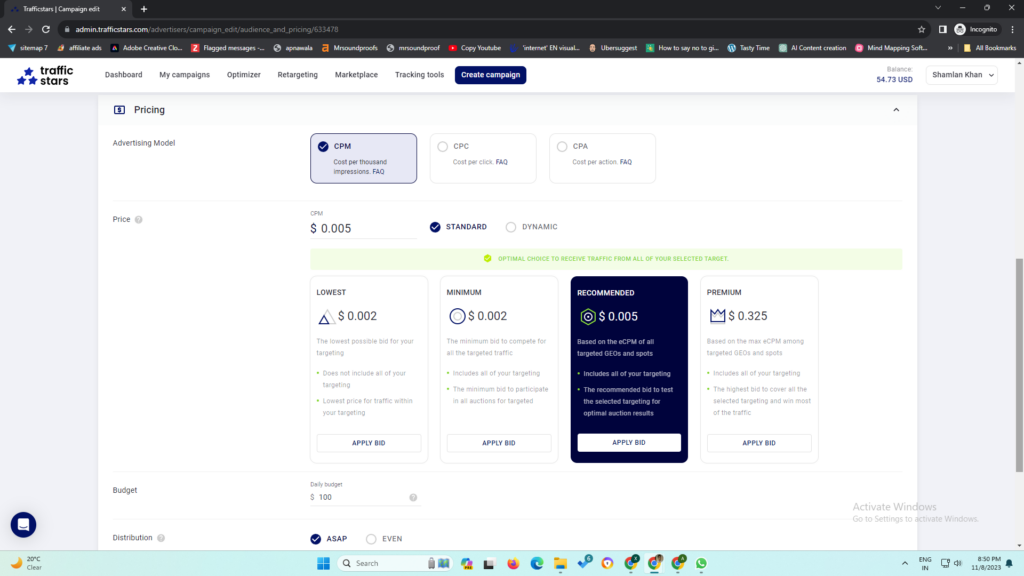 Normally, you can create a campaign based on the CPM(Cost per Mile), CPC(Cost per Click), and CPA(Cost Per Action). If you Compare these with Google AdWords, you will get approximately 15% of the total Cost.


In this section, you need to upload your creative and the landing page URL.
---
Thing to Read:
---
Optimizing Trafficstars for High Profitability:
If you want to optimize your campaign at Trafficstars for very high profitability, then, there are only options available to you:
UI and UX Landing Page:
UI and UX are very important for cost-effective high-quality sales. The quality includes the speed and architecture of the landing page.
Normally, a landing page can be made up of three designs.
Highly graphical landing pages (Pay per install ads or popunders);
Combinations of these two (Normallyat Google Ads)
After experiencing millions of clicks we get from them, you should prefer 1st or 3rd method.
User Collection:


Retargeting is crucial for all campaigns. In my experience, it has increased my ROAS by over 40% on average. By collecting user data from the landing page, you can retarget them in a new campaign.
Conversion Tracking:
Normally it used to track conversion with the help of s2s tracking or Javascript.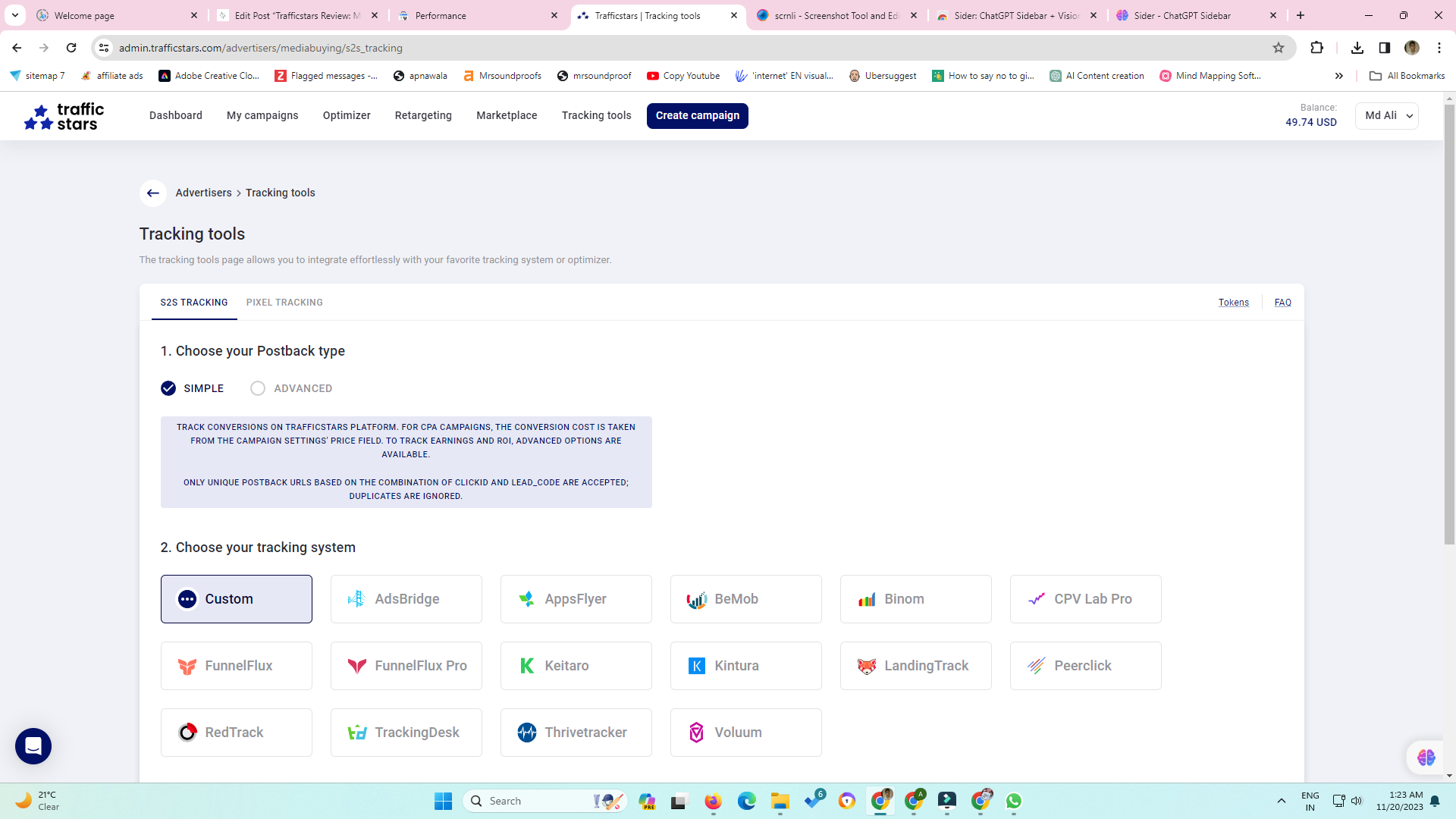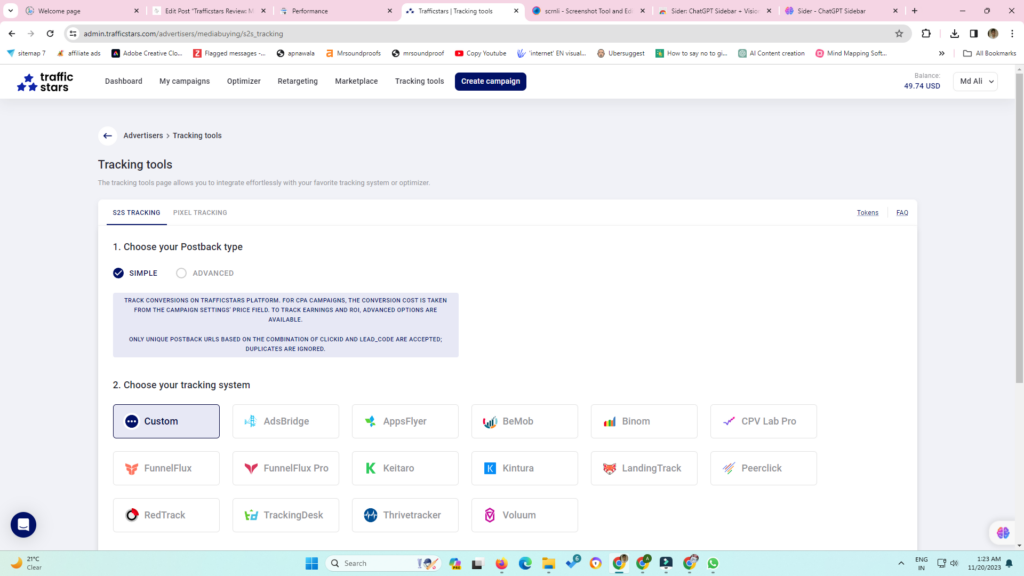 For S2S tracking, it used to offer support from multiple tools from the Red Track, adsbridge, and many others. You can refer above image for the detailed list. Out of these tools, I prefer redtrack as it has great features at a very reliable cost.
In a case, your landing page doesn't support s2s tracking. You should install the codes "you get on the Pixel tracking page" on the thank you page.
Optimizers: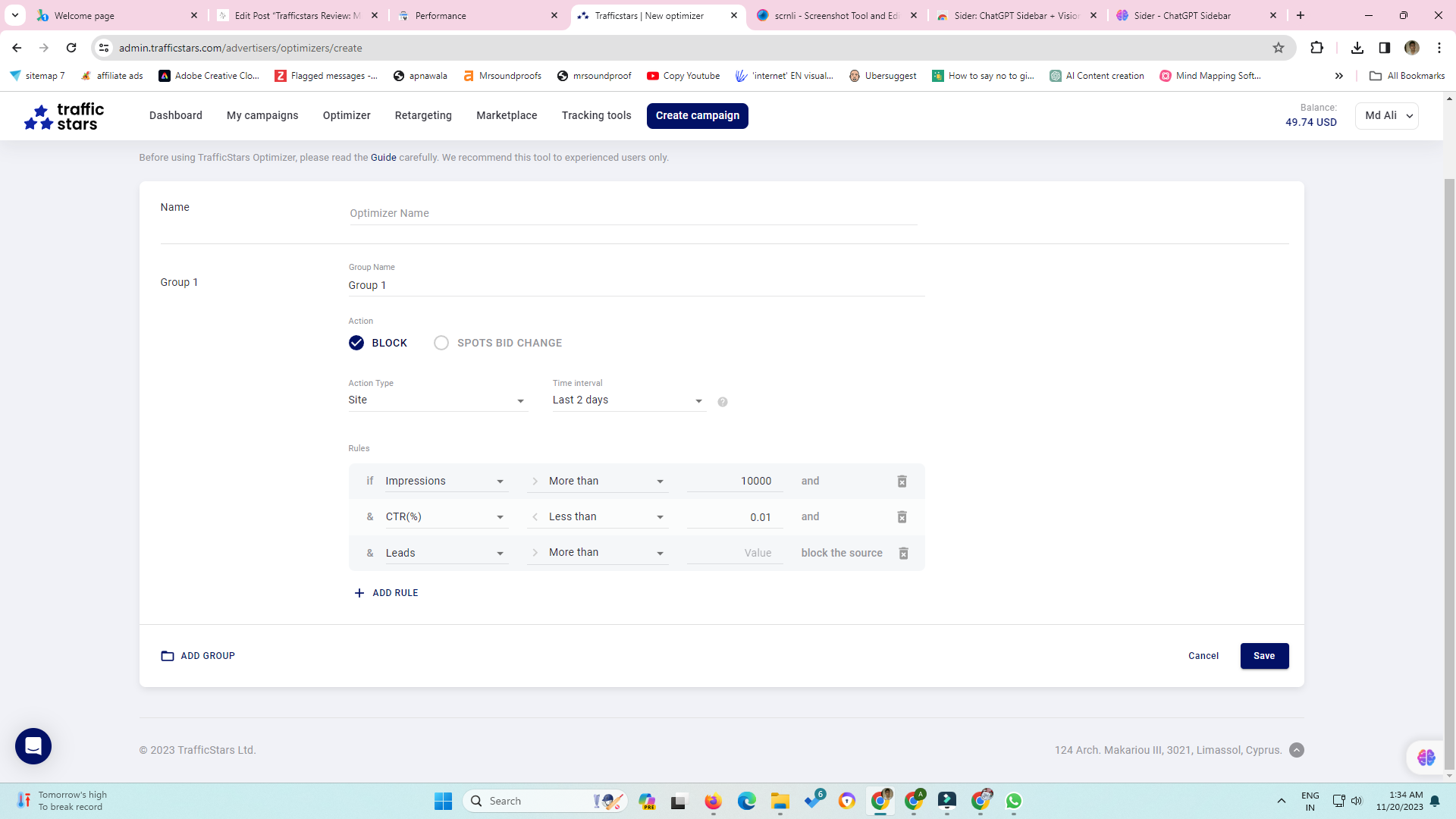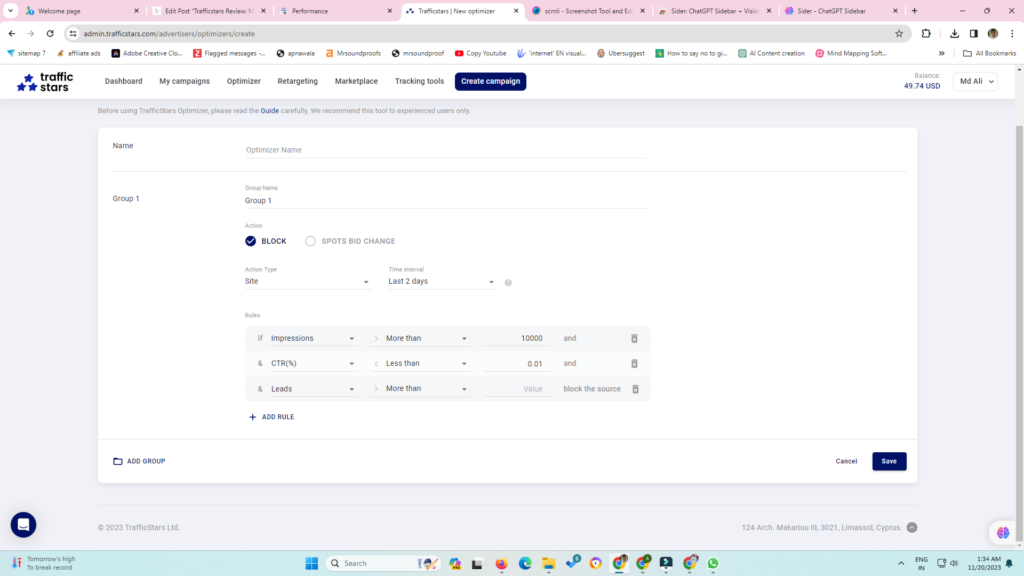 Optimizers are a great solution for an advertiser who does not want to invest a lot of time in the analytics produced by the campaigns.
Typically, there are two types of tools offered to optimize campaigns. The first is blocking, which helps to prevent overspending by pausing ads that are depleting the budget. The second tool is Spot Bid Change, which adjusts the cost-per-click (CPC) to increase traffic if the campaign is performing well. This can effectively boost traffic by raising the CPC.
How to integrate Trafficstars with your website:
Go to its official website
Click on Registration
Fill Form
You will get a Confirmation Email
Sign in to the Website with your username and password as filled
Click on the Add New Website box
A new Form Appears on the website
Verify Your ownership of the website.
Get the Code and paste it into your website.
Thus, Trafficstars is live on your website.
Trafficstars Ads format:
Nowadays, Trafficstars Supports the following types of ad formats. These ad formats are like this:
Setting up Ads with Trafficstars:
In this Section, we will learn to launch ads with the trafficstar and make them profitable across the globe.
Trafficstars Requirements:
In this section, we are going to discuss the requirements to join Trafficstars. These requirements that we found during the Trafficstars Review are listed below:
The publisher should Protect the Personal privacy of Their visitors.
Trafficstars can not permit containing Content related to animal Pornography.
Don't Promote the following Content:
Sales or promotion of Alcohol, Drugs, or any related paraphernalia
Extreme violence, Abuse, Incest, Rape, Torture, Blood, Scatophilia, Urination, and others.
Sales or promotion of weapons or ammunition (e.g., firearms, fighting knives, stun guns)
Hacking/cracking content
Incentive ads are not permitted, Content regarding programs that compensate users for clicking on ads or offers, performing searches, surfing websites, or reading emails
The use of any tools that artificially generate impressions or clicks is not permitted.
Websites that are under construction or incomplete are not permitted.
Any other illegal content that promotes illegal activity or infringes on obscenity laws, the criminal code
Website approval or denial remains at Trafficstars's sole discretion
Trafficstars Earning:
Traffic stars share 60% of revenue with their publisher. This revenue share gives a high revenue potential to the publisher.
Trafficstars Payment Method:
Traffic stars offer plenty of payment methods to publishers. These Payment methods with their payment threshold are listed below:
Trafficstars Payment Proof
This is a screenshot of Traffic Stars as payment proof. This screenshot will help you to determine that Trafficstars is a legit ad Network:

Trafficstars CPC rates:
If we talk about the CPC rates of Trafficstars, we find that it has good CPC and CPM rates in the adultstream website while in comparison with mainstream ad Network AdSense its CPC or CPM is approx 40-45%.
Trafficstars vs. AdSense:
A comparison of Traffic Stars and AdSense is a waste of time as both are the king of their respective domain. Trafficstars is king for adult content while AdSense is king for mainstream content.
Pros and Cons of Trafficstars:
In this section of the article, we will try to conclude every Pros and cons of Trafficstars adult ad Network.
Pros:
Very High CPC or CPM in comparison to adult stream websites.
No approval Requirements
Worldwide coverage
Plenty of ads format
Cons:
Currently, we don't find any cons for this ad Network.
Trafficstars Plugin to connect with WordPress:
Currently, Trafficstars do not offer any plugin to connect Trafficstars with your WordPress website.
Trafficstars alternative:
I have divided the whole Traffic Stars alternative into parts. One is for the adult ad while the second part is for Mainstream ad Networks. Let's start the discussion of the Trafficstars alternative. These alternatives are listed Below
Mainstream Ad Alternative:
During Trafficstars Review, we found the following mainstream ad alternatives:
Adult ads Alternative:
During Trafficstars Review, we found the following adult ad alternatives:
Trafficjunky: Trafficjunky is a Canada-based Premium adult ads network established in 2008, serving more than 20b Geo-targeted ads around the world.
Clickadu: Clickadu is a premium ad space buying and selling marketplace established by Benjamin Fonzé in 2014. In Clickadu Publisher and Advertisers can buy or sell their ad space.
Clicksor: Clicksor is a CPM-based ad space buying and selling marketplace established by Patrick Jeng in 2004(200 Consumers Rd, Toronto, Ontario M2J 4R4, ). In Clicksor Publisher and Advertisers can buy or sell their ad space.
Way Forward:
Anything left in Your mind? please Comment below
A Guy Helping others to buy perfect product